Computer Aided Biomanufacturing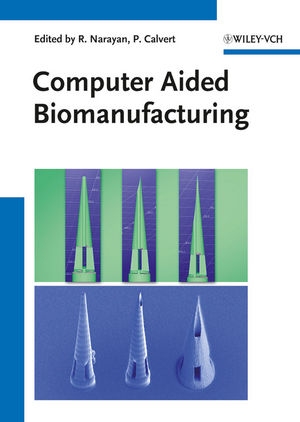 Computer Aided Biomanufacturing
ISBN: 978-3-527-40906-8
Jul 2011
204 pages
Description
Due to the rapid advances over the past few years in the field of rapid prototyping, the crucial information for researchers in the field is scattered throughout numerous journals and thus not readily available. This carefully compiled collection of selected articles from the top Wiley-Blackwell journals on the topic of rapid prototyping provides the fundamentals necessary to comprehend current rapid prototyping technologies while also developing new ones.
From the contents:
* History of Rapid Prototyping in Medicine
* Use of Imaging Modalities in Rapid Prototyping
* Computer-Assisted Modeling of Tissues
* Fused Deposition Modeling
* Inkjet Printing
* Stereolithography Apparatus and other Photopolymerization Techniques
* Selective Laser Sintering
* Materials Used in Rapid Prototyping
* Future Developments
With an extensive introduction and comments by the editors, this reference covers all relevant aspects so as to suit the audience's, bridging the gap between related disciplines.

This volume will contain articles from Wiley-Blackwell Jnls covering the following topics:
History of Rapid Prototyping in Medicine
Use of Imaging Modalities in rapid Prototyping
Computer-Assisted Modeling of Tissues
Fused Deposition Modeling
Inkjet Printing
Stereolithography Apparatus and other Photopolymerization Techniques
Selective Laser Sintering
Materials Used in Rapid Prototyping
Future Developments