Computer Architecture and Organization: An Integrated Approach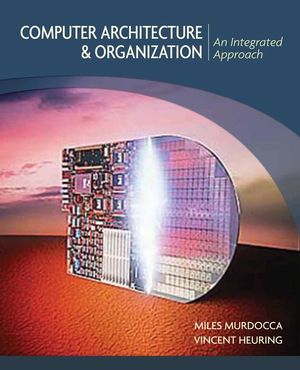 Computer Architecture and Organization: An Integrated Approach
ISBN: 978-0-471-73388-1
Mar 2007
544 pages
Description
Computer Architecture and Organization: An Integrated Approach exposes the inner workings of the modern digital computer at a level that demystifies the inner workings of the machine for undergraduate students. The text covers topics normally found in a first course in computer architecture or computer organization and places the beginning student on a solid track for continuing studies in computer-related disciplines.
1. Introduction.
2. Data Representation.
3. Arithmetic.
4. The Instruction Set Architecture.
5. Datapath and Control.
6. Languages and the Machine.
7. Memory.
8. Buses and Peripherals.
9. Networking and Communication.
10. Advanced Computer Architecture.

Appendix A: Digital Logic.
Appendix B: Using ARCTools.
Index.
Balanced coverage of software and hardware
The content addresses the core fundamental topics without spending too much time on hardware related issues
Each topic is covered in the context of the entire machine allowing students to see how implementation affects behavior.
More software type issues like networking are included as a continuing thread.
Case Studies
Motivate students with real world examples in each chapter
Some cases are: "Patriot Missile Defense failure caused by loss of precision", "What happens when a computer boots up?" and "How a virus infects a machine" 
Feature boxes cover commercial processors
Students learn about Intel and Motorola processors which dominate the industry
Uses subset of SPARC, grounded in a real-world computer architecture tool for instruction set architecture throughout the text
A RISC Computer (ARC) is complemented with platform-independent software tools
ARCTools suite is fully class-tested and supports the examples used in the book