Computer-Based Testing and the Internet: Issues and Advances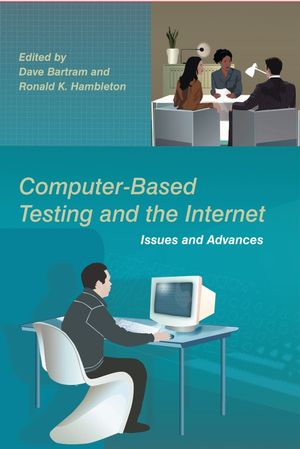 Computer-Based Testing and the Internet: Issues and Advances
ISBN: 978-0-470-86193-6
Sep 2005
272 pages
Description
No topic is more central to innovation and current practice in testing and assessment today than computers and the Internet.

This timely publication highlights four main themes that define current issues, technical advances and applications of computer-based testing:
Advances in computer-based testing -- new test designs, item selection algorithms, exposure control issues and methods, and new tests that capitalize on the power of computer technology.
Operational issues -- systems design, test security, and legal and ethical matters.
New and improved uses -- for tests in employment and credentialing.
The future of computer-based testing -- identifying potential issues, developments, major advances and problems to overcome.
Written by internationally recognized contributors, each chapter focuses on issues of control, quality, security and technology. These issues provide the basic structure for the International Test Commission's new Guidelines on Computer-Based Testing and Testing on the Internet. The contributions to this book have played a key role in the development of these guidelines.
Computer-Based Testing and the Internet is a comprehensive guide for all professionals, academics and practitioners working in the fields of education, credentialing, personnel testing and organizational assessment. It will also be of value to students developing expertise in these areas.
About the Editors.
List of Contributors.
Introduction: The International Test Commission and its Role in Advancing Measurement Practices and International Guidelines (Thomas Oakland).
1. Testing on the Internet: Issues, Challenges and Opportunities in the Field of Occupational Assessment (Dave Bartram).
2. Model-Based Innovations in Computer-Based Testing (Wim J. van der Linden).
3. New Tests and New Items: Opportunities and Issues (Fritz Drasgow and Krista Mattern).
4. Psychometric Models, Test Designs and Item Types for the Next Generation of Educational and Psychological Tests (Ronald K. Hambleton).
5. Operational Issues in Computer-Based Testing (Richard M. Luecht).
6. Internet Testing: The Examinee Perspective (Michael M. Harris).
7. The Impact of Technology on Test Manufacture, Delivery and Use and on the Test Taker (Dave Bartram).
8. Optimizing Quality in the Use of Web-Based and Computer-Based Testing for Personnel Selection (Lutz F. Hornke and Martin Kersting).
9. Computer-Based Testing for Professional Licensing and Certification of Health Professionals (Donald E. Melnick and Brian E. Clauser).
10. Issues that Simulations Face as Assessment Tools (Charles Johnson).
11. Inexorable and Inevitable: The Continuing Story of Technology and Assessment (Randy Elliot Bennett).
12. Facing the Opportunities of the Future (Krista J. Breithaupt, Craig N. Mills and Gerald J. Melican).
Index.