Computer Education for Teachers: Integrating Technology into Classroom Teaching, 6th Edition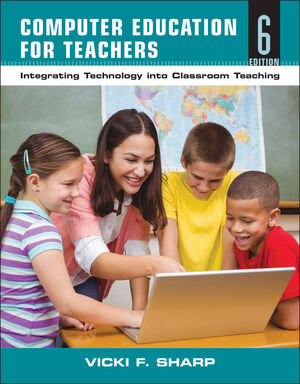 Computer Education for Teachers: Integrating Technology into Classroom Teaching, 6th Edition
ISBN: 978-0-470-14110-6
Nov 2008
394 pages
Description
Computer Education for Teachers: Integrating Technology into Classroom Teaching is designed to introduce future teachers to computer technology in a meaningful, practical fashion. It is written for undergraduate and graduate students who want an up-to-date, readable, practical, concise introduction to computers for teachers.
Part 1. An Introduction To Computers And Educational Technology.
Chapter 1. The Historical Past.
Chapter 2. Getting Started On The Computer.
Part 2. Integrating The Internet Into The Classroom.
Chapter 3. Networking, Internet And Distance Learning.
Chapter 4. The Web.
Chapter 5. Internet Issues.
Part 3. Using And Selecting Educational Technology.
Chapter 6. Word Processing.
Chapter 7. Desktop Publishing.
Chapter 8. Databases.
Chapter 9. Spreadsheets And Integrated Programs.
Chapter 10. Digital Photography And Newer Technologies.
Chapter 11. Multimedia And Video Technology.
Chapter 12. Selecting Software And Integrating It Into The Classroom.
Chapter 13. Technology In Special Education: Assistive Technology.
Chapter 14. Teacher Support Tools, Music, Art, And Graphics Software.
Part 4. What Teachers Should Know About Educational Technology.
Chapter 15. One Computer In The Classroom.
Chapter 16. Learning Theorists, And Research.
Chapter 17. The Future.
Appendix A. Directory Of Selected Software Publishers.
Appendix B. Recommended Mail Order And Online Software Sources.
Glossary.
Index.