Computer Games: Text, Narrative and Play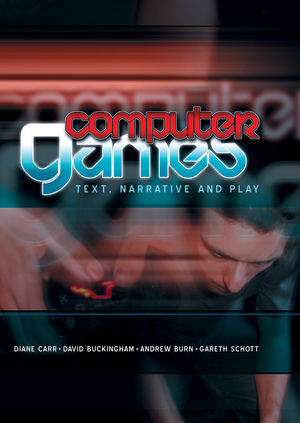 Computer Games: Text, Narrative and Play
ISBN: 978-0-745-68750-6 March 2014 Polity 224 Pages
Download Product Flyer
Download Product Flyer
Download Product Flyer is to download PDF in new tab. This is a dummy description. Download Product Flyer is to download PDF in new tab. This is a dummy description. Download Product Flyer is to download PDF in new tab. This is a dummy description. Download Product Flyer is to download PDF in new tab. This is a dummy description.
Description
Computer games are one of the most exciting and rapidly evolving media of our time. Revenues from console and computer games have now overtaken those from Hollywood movies; and online gaming is one of the fastest-growing areas of the internet. Games are no longer just kids' stuff: the majority of players are now adults, and the market is constantly broadening. The visual style of games has become increasingly sophisticated, and the complexities of game-play are ever more challenging. Meanwhile, the iconography and generic forms of games are increasingly influencing a whole range of other media, from films and television to books and toys.
This book provides a systematic, comprehensive introduction to the analysis of computer and video games. It introduces key concepts and approaches drawn from literary, film and media theory in an accessible and concrete manner; and it tests their use and relevance by applying them to a small but representative selection of role-playing and action-adventure games. It combines methods of textual analysis and audience research, showing how the combination of such methods can give a more complete picture of these playable texts and the fan cultures they generate. Clearly written and engaging, it will be a key text for students in the field and for all those with an interest in taking games seriously.
Table of contents
List of Illustrations
Acknowledgements
1. Studying computer games
2. Defining game genres
3. Games and narrative
4. Play and pleasure
5. Space, navigation and affect
6. Playing roles
7. Reworking the text: online fandom
8. Motivation and online gaming
9. Social play and learning
10. Agency in and around play
11. Film, adaptation and computer games
12. Games and Gender
13. Doing game analysis
Notes
Games Cited
References
Index
Reviews
"This valuable text is always informed by serious research, analysis and careful thought."
-- Julian McDougall, Media Education Assocation Newsletter

'Computer Games: Text, Narrative and Play will be valuable for teachers and students who want to familiaize themselves with the core concepts and important debates within the merging field of games studies. But it does more than that - couping format analysis of games with an ethnographic perspective on games-playing showing how the same games studies can be read through multiple conceptual frameworks. If recent writing in games studies has seemed polarized, this book maps the middle ground between the warring positions.'

-- Henry Jenkins, Massachusetts Institute of Technology

'Computer Games challenges the notion that games are "just for fun" by introducing a readable tome for observers and players of Pong to Perfect Dark. A comprehensive and useful breakdown of what students of games studies should focus on and how they should go about doing it.'

-- Aleks Krotoski, Technology Journalist and Researcher
Features


A major new introduction to a popular and growing area of media studies.

No previous knowledge of having studied games or interactive media is assumed, and complex theoretical approaches are made clear and accessible for a student reader.

The textbook is divided into 12 clear chapters and will map closely onto course structures.

The authors offer a good balance of theory and practice – a full chapter is dedicated to teaching the student methods for analysing games themselves.

The book looks both at game texts and how they are actually played.

Discusses several well-known role-playing and action-adventure games.

All 'classic' games are covered!