Con brio: Beginning Spanish, 4th Edition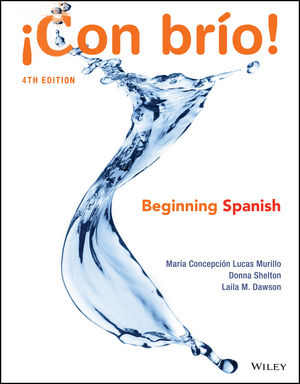 Con brio: Beginning Spanish, 4th Edition
ISBN: 978-1-119-32053-1
Jan 2017
Description
¡Con Brio! makes beginning learners beginning speakers. It provides a solid footing in the basics of Spanish and broad cultural awareness that allows beginners to use their Spanish immediately with each other, with Spanish-speaking friends, neighbors and co-workers, and with Spanish speakers around the world.
CAPÍTULO 1 Primeros pasos 1
CAPÍTULO 2 La universidad y el trabajo 33
CAPÍTULO 3 La familia y los amigos 69
CAPÍTULO 4 El tiempo libre 105
CAPÍTULO 5 La comida 145
CAPÍTULO 6 En casa 181
CAPÍTULO 7 La ciudad 215
CAPÍTULO 8 De compras 255
CAPÍTULO 9 La salud y las emergencias 291
CAPÍTULO 10 El barrio 327
CAPÍTULO 11 En el trabajo 365
CAPÍTULO 12 Nuevos horizontes 397
COURSE RESOURCES 431
Instrucciones para la clase (Classroom directions) 432
Mapa y datos de los países hispanohablantes (World Map) 434
Países y gentilicios (Countries and Nationalities List) 436
Apéndice 1: ¡Diálogos en acción! (Expresiones útiles; Pasos 3 y 4) 438
Apéndice 2: Transcripciones de los ¡Diálogos en acción! 449
Apéndice 3: Verbos 453
Glosario: español - inglés 460
Glosario: inglés - español 469
Index 478
To meet student and instructor needs, ¡Con brío! Fourth Edition is available in three formats: print, eText, and the interactive digital textbook.
The innovative online teaching and learning environment of WileyPLUS Learning Space, built on a foundation of cognitive research that integrates relevant resources, including the entire digital textbook, in an easy-to-navigate framework that helps students study effectively and assess their progress against study objectives.
A streamlined, easy-to-read Scope and Sequence.
A simplified approach to presenting grammar through three to six Gramática sections per chapter. Explanations are brief, concise and facilitate student comprehension.
New or revised comic strips introducing some of the Gramática sections.
Several new segments in ¡Videos en acción!
Several ¡Lectura en acción! sections with new readings adapted from newspapers published in Spanish-speaking countries.
Additional revisions to the fourth edition include updated ¿Sabes que…? culture notes, PowerPoints, Workbook and
Lab Manual, Grammar Handbook, and Testing Program.
A section of course resources including a map and statistics on all Spanish-speaking countries, phrases for classroom instructions, a listing of country names with the corresponding adjectives of nationalities, the Appendices with the dialogs and activities related to ¡Diálogos en acción!, and Spanish/English, English/Spanish glossaries.