Conceptual and Practical Issues in School Leadership: Insights and Innovations from the U.S. and Abroad: New Directions for School Leadership, Number 9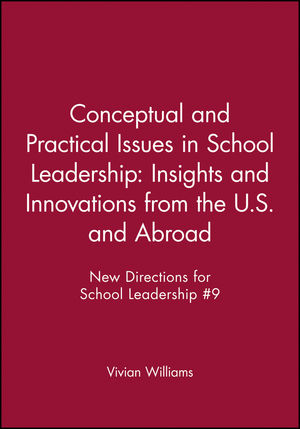 Conceptual and Practical Issues in School Leadership: Insights and Innovations from the U.S. and Abroad: New Directions for School Leadership, Number 9
ISBN: 978-0-787-94274-8 December 1998 Jossey-Bass 113 Pages
Description
For many educaiors the practice of "leadership" is tediously elusive and problematic, embedded within opaque theoretical concepts. The extensive literature emphasizes innovative strategies and new goals for leaders in political, corporate, and public sector organizations. Invariably, nostrums are prescribed for the most closely observed but least comprehended patterns of human behavior-leadership.
In this issue, authors who have been involved in developing new strategies for leadership practice provide perspectives on educational change and current experience in the United Kingdom, Israel, and the United States. Their personally significant themes demonstrate that in response to fundamental change, new leadership cultures are essential to the development of more effective schools. For school communities and practitioners these changes bring new responsibilities together with associated opportunities for professional leadership at school level.
Increasingly in education, as in all professional organizations, leaders acknowledge that major distinctions exist between the inadequacies of positional management processes and the clear understanding of high-quality interpersonal relationships that are required if effective leadership is to flourish in schools. Although the contexts are remarkably diverse, it is evident that concepts of leadership distributed among all practitioners on an earned basis rather than limited to and based on positional status are pivotal to the development of shared leadership practice through mutually valued interactive processes.
It is hoped that these international perspectives will enhance understanding of the positive realities of earned leadership processes and contribute to a clarifying dialogue along the professional highway toward more effective schools.
This is the 9th issue of the quarterly journal New Directions for School Leadership.
Table of contents
1. Leader and follower relationships: Emerging perceptions about the conceptual nature of followership in education(Vivian Williams)
2. Looking back from the front: Practical reflections on leadership(David Johnson)
3. Collaborative leadership and partnership management(William J. Casile, Reeny D. Davison)
4. The ambiguity of moral leadership in Catholic schools(James Arthur)
5. Leadership beyond the curriculum: The role of the school community in character education(James E. Antis)
6. School leadership in a reformed educational environment(Graham Deeks)
7. The emerging role of school leadership in Israel: From external to internal locus of control(Ami Volansky, Avi Habinski)