Concise Human Physiology, 2nd Edition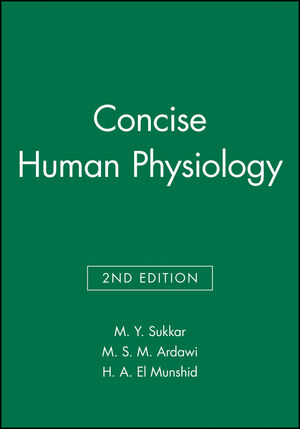 Concise Human Physiology, 2nd Edition
ISBN: 978-0-632-05586-9 December 2000 Wiley-Blackwell 450 Pages
Description
Concise Human Physiology is written for medical students and presents the main facts in a concise, straightforward style. The first edition received an encouraging reception from students, especially those for whom English is a foreign language. The presentation of major subjects in manageable chapter lengths makes the book most attractive to students who find some books rather lengthy due to detail and the inclusion of information not required by the medical curriculum.


This second edition is more focused and has made use of valuable feedback from students and teachers who have been using the book over the last few years. All the chapters have been thoroughly revised and new illustrations and summary diagrams have been added.
An Introduction to Human Physiology.
The Social Environment.
The Blood.
Excitable Tissues.
The Autonomic Nervous System.
The Cardiovascular System.
The Respiratory System.
Nutrition and Metabolism.
Gastrointestinal Physiology.
The Endocrine System.
The Urinary System.
Regulation of Blood pH.
The Skin and Regulation of Body Temperature.
Exercise and Work Physiology.
Physiology of Human Reproduction.
Pregnancy and Perinatal Physiology.
The Central Nervous System (Clinical Neurophysiology).
The Special Senses.
An Introduction to Statistics
"In summary then, excellent, easy to read text, generally an enjoyable read...A recommended buy"
Trident - St George's Hospital Medical School Gazette
* the textual description is simple and straightforward
* emphasis is on the main principles and concepts of human physiology required for the practice of medicine