Concrete Technology: Proceedings of the Anna Maria Workshops 2002:Designing Concrete for Durability, 2003:Testing & Standards for Concrete Durability, 2004:Cement & Concrete of the Future, Materials Science of Concrete, Special Volume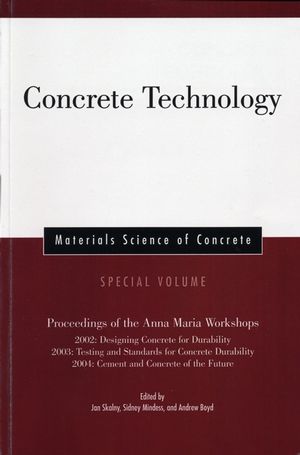 Concrete Technology: Proceedings of the Anna Maria Workshops 2002:Designing Concrete for Durability, 2003:Testing & Standards for Concrete Durability, 2004:Cement & Concrete of the Future, Materials Science of Concrete, Special Volume
ISBN: 978-1-574-98268-8
Feb 2005
204 pages
Description
This edition contains 17 papers presented at past Anna Maria Workshops. Topics include The Future of the Cement and Concrete Industries, Testing and Standards for Concrete Durability, and Designing Concrete for Durability.
Buy Both and Save 25%!
Original Price:$256.00
Purchased together:$192.00
save $64.00
Cannot be combined with any other offers.
Papers Presented at the 3rd Anna Maria Workshop (2002)
.
Compressive Strength: The Wrong Way to Assess Concrete (Sidney Mindess).

Durability Design of Concrete Cover: The Knowing - Doing Gap (Arnon Bentur).

Concrete Durability from a Highway Perspective (Stephen W. Forster).

The European Approach to Standardization of Durability (Carmen Andrade).

Conclusions of the 4th Anna Maria Workshop (2003).

Mathematical Modeling and Standards for Prediction of Concrete Service Life (Working Group 1).

Test Methods and Specifications (Working Group 2).

Materials Selection and Proportioning for Durability (Working Group 3).

Structural Design and Detailing Considerations to Achieve Durability (Working Group 4).


Papers Presented at the 5th Anna Maria Workshop (2004).

100 Years of Cement and Concrete: Successes and Challenges (Juraj Gebauer and Jan Skalny).

U.S. Construction and Cement Outlook (Ed Sullivan).

Challenges of Cement Production (Duncan Herfort).

Cements of the Future (Frederic P. Glasser).

NANOCEM: An Industrial-Academic Partnership for Fundamental Research on Cementitious Materials (Karen Scrivener).

Future of Concrete: Vision and Challenges (Arnon Bentur, Sidney Mindess, and Amnon Katz).

SDC, An Industry Tool to Improve the Efficiency of the Concrete Industry (Peter Emmons).

The P2P Initiative (Jeff O'Leary and Lionel Lemay).

Needs for Concrete Tests and Standards (R. Doug Hooten).