Conducting a Successful Major Gifts and Planned Giving Program: A Comprehensive Guide and Resource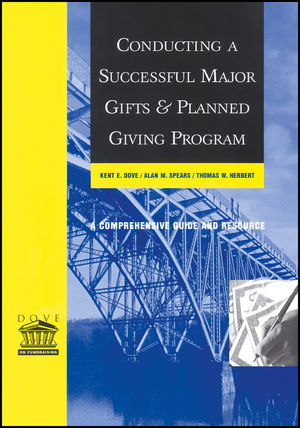 Conducting a Successful Major Gifts and Planned Giving Program: A Comprehensive Guide and Resource
ISBN: 978-0-787-95707-0
Mar 2002, Jossey-Bass
576 pages
Product not available for purchase
Description
Conducting a Successful Major Gifts and Planned Giving Program--the fifth volume in the groundbreaking Dove on Fundraising Series--is a complete guide to establishing and sustaining a major gifts and planned giving program in a nonprofit organization. Written by master fundraiser Kent E. Dove and coauthors Alan M. Spears and Thomas W. Herbert, this essential resource includes the information needed to build a viable major gifts and planning giving program and offers a clear understanding of the law as it pertains to a variety of planned giving options.

View an example of a teaching tool available in this title: Course Syllabus.
Preface.
The Authors.
Introduction.
PART ONE: PLANNING AND IMPLEMENTING YOURMAJOR GIFTS AND PLANNED GIVING PROGRAM.
Tables, Figures, and Exhibits in Part One.
Building Your Program.
1 Identifying, Researching, and Rating Major Gift Prospects.
2 Cultivating and Soliciting Major Gifts.
3 Securing Lead Gifts (Rodney P. Kirsch, Martin W. Shell).
4 Connecting Major Gifts and Planned Giving.
5 Implementing a Planned Giving Program.
6 Marketing Planned Gifts: Understanding the Gift Options and Tax Consequences.
7 Outright Gifts.
8 Life Income Gifts.
9 Bequests and Remainder Interests.
10 New and Advanced Planned Giving Techniques.
PART TWO: THE MAJOR GIFTS ANDPLANNED GIVING RESOURCE GUIDE.
Resource Guide Contents.
1 Nonprofit Key Word Search.
2 Estimating Net Worth.
3 Web-Based Research.
4 Research Profile Formats.
5 How to Close the Gift.
6 Letter Proposal.
7 Full Proposal.
8 Wills Seminar Program System.
9 Planned Giving Strategic Plan.
10 Gift Acceptance Policies.
11 Gift Agreement Templates.
12 Planned Giving Newsletters.
13 Sample Planned Giving Brochures.
14 Guide to Giving.
15 Personal Financial Planner.
16 Planned Giving Honor Roll.
17 Rules Regarding Charitable Tax Deductions.
18 Templates for Drafting Trusts.
19 Sample Charitable Lead Trust.
References.
Index.