Confessions of a Subprime Lender: An Insider's Tale of Greed, Fraud, and Ignorance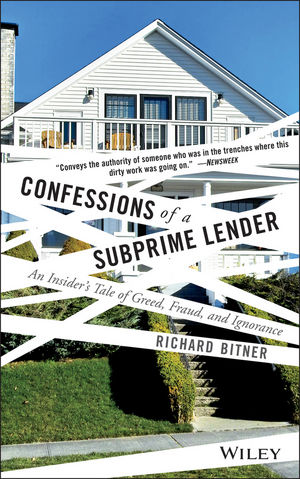 Confessions of a Subprime Lender: An Insider's Tale of Greed, Fraud, and Ignorance
ISBN: 978-0-470-44061-2 November 2008 208 Pages
Description
Former subprime lender Richard Bitner once worked in an industry that started out helping disadvantaged customers but collapsed due to greed, lack of financial control and willful ignorance. In Confessions of a Subprime Lender: An Insider's Tale of Greed, Fraud, and Ignorance, he reveals the truth about how the subprime lending business spiraled out of control, pushed home prices to unsustainable levels, and turned unqualified applicants into qualified borrowers through creative financing. Learn about the ways the mortgage industry can be fixed with his twenty suggestions for critical change.
Table of contents
Acknowledgments ix
Introduction xi
CHAPTER 1 Why I Bailed Out of the Industry 1
CHAPTER 2 The Gunslinging Business of Subprime Lending 15
CHAPTER 3 The Underbelly: Mortgage Brokers 39
CHAPTER 4 Making Chicken Salad Out of Chicken Shit: The Art of Creative Financing 73
CHAPTER 5 Wall Street and the Rating Agencies: Greed at Its Worst 103
CHAPTER 6 Secondary Contributors: The Fed, Consumers, Retail Lenders, Homebuilders, and Realtors 127
CHAPTER 7 How to Fix a Broken Industry 151
Glossary 183
Resources 185
Reviews
"...packed with tales of crooked brokers, deceitful customers, avaricious Wall Street banks and all too obliging credit rating agencies."
(The Guardian, September 19, 2008)
"If this is even near the truth, it is remarkable...Bitner's book was more firmly rooted in the world we live in." (Prospect Magazine, October, 2008)
"...pulls back the curtain on the players who created the subprime disaster...In a breezy style and from a special vantage" (Pensions World, November 2008)