Confidence Game: How Hedge Fund Manager Bill Ackman Called Wall Street's Bluff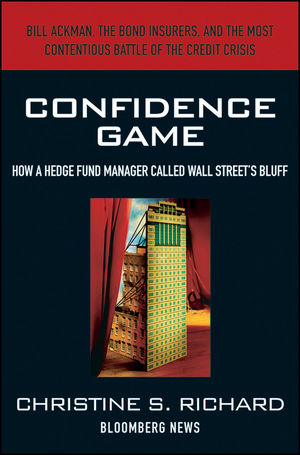 Confidence Game: How Hedge Fund Manager Bill Ackman Called Wall Street's Bluff
ISBN: 978-1-118-01041-9
Mar 2011
352 pages
Description
An expose on the delusion, greed, and arrogance that led to America's credit crisis
The collapse of America's credit markets in 2008 is quite possibly the biggest financial disaster in U.S. history. Confidence Game: How a Hedge Fund Manager Called Wall Street's Bluff is the story of Bill Ackman's six-year campaign to warn that the $2.5 trillion bond insurance business was a catastrophe waiting to happen. Branded a fraud by the Wall Street Journal and New York Times, and investigated by Eliot Spitzer and the Securities and Exchange Commission, Ackman later made his investors more than $1 billion when bond insurers kicked off the collapse of the credit markets.
Unravels the story of the credit crisis through an engaging and human drama
Draws on unprecedented access to one of Wall Street's best-known investors
Shows how excessive leverage, dangerous financial models, and a blind reliance on triple-A credit ratings sent Wall Street careening toward disaster
Confidence Game is a real world "Emperor's New Clothes," a tale of widespread delusion, and one dissenting voice in the era leading up to the worst financial disaster since the Great Depression.
Preface.
Acknowledgments.
1 The Meeting.
2 The Short Seller.
3 The Question.
4 Backlash.
5 The Worst That Could Happen.
6 The Trouble With Triple-A.
7 Unanswered Questions.
8 Crimes And Cockroaches.
9 Turning The Tables.
10 Scrutiny.
11 The Black Hole.
12 The Court Of Public Opinion.
13 The Insurance Charade.
14 When Crack Houses Become Collateral.
15 Storm Warnings.
16 An Uncertain Spring.
17 Apocalypse Now.
18 Parting The Curtain.
19 Ratings Revisited.
20 The Panic Begins.
21 Catastrophe And Revenge.
22 Time Runs Out.
23 Bailout.
24 Judgment Day.
25 The Nuclear Threat.
Epilogue.
Notes.
Index.
"This a riveting account of a tenacious investor, incompetent/apathetic regulators & analysts and a company that hid information, deceived investors and used every connection it had in its attempts to silence him. At points this reads like a John Grisham novel … except it actually happened. For me, this is the best of the 'melt down' books to date … hands down."
— Todd Sullivan, valueplays.net, April 2010
" ... Ackman's pursuit of MBIA spanned the two major crises of capitalism of the last decade, from the earlier era of corporate fraud prosecutions epitomized by Enron and its off-balance-sheet special purpose vehicles (SPVs), to the late credit debacle stemming from the collapse of the CDO house of cards."
—The Hedge Fund Law Report, May 2010