Confined Space Entry and Emergency Response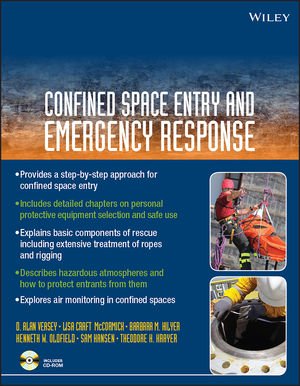 Confined Space Entry and Emergency Response
ISBN: 978-0-471-78765-5 December 2005 512 Pages
Description
EVERY SECOND COUNTS WHEN YOU'RE RESPONDING TO AN EMERGENCY INVOLVINGCONFINED SPACE-HERE'S THE DEFINITIVE GUIDE TO PERFORMING FLAWLESS RESCUES!

Confined Space Entry and Emergency Response utilizes a realistic, scenario-based approach to teach you-and your staff-the right way to respond to an incident involving a confined space. The authors provide intensive, step-by-step guidance through the challenging maze of training regulations, equipment needs, and procedures to keep your response team finely tuned and ready to go under any conditions.

You'll find expert, detailed coverage of complex-and often confusing-topics such as:
* The basic components of rescue
* OSHA's regulations for confined space entry and rescue
* Confined space entry permitting
* Assessing confined space hazards
* Hazardous atmospheres and how to protect entrants from them
* Air monitoring in confined spaces
* Selection and use of personal protective equipment
* The use of ropes and rigging

The CD-ROM includes the Instructor's Guide along with lesson plans and useful practice tools such as worksheets, exercise handouts, performance checklists, diagrams and equipment lists for field exercises, instructions for building field training simulators, and guidelines for identifying rescue trainers and evaluating their competency as well as that of outside rescue teams.

Everything you need to effectively train those working in a confined space can truly be found within these pages and on the CD-ROM.
Preface.
Acknowledgments.
PART I: BASIC CONFINED SPACE.
Chapter 1. Introduction to Confined Spaces.
Chapter 2. Regulatory and Administrative Aspects of Confined Space Entry and Rescue.
Chapter 3. Identifying Confined Space Hazards.
Chapter 4. Air Monitoring in Confined Spaces.
Chapter 5. The Entry Permit.
PART II: PROTECTIVE MEASURES.
Chapter 6. Controlling Confined Space Hazards.
Chapter 7. Respiratory Protection.
Chapter 8. Chemical Protective Clothing.
Chapter 9. Personal Safety Equipment.
Chapter 10. Safe Use of Personal Protective Equipment.
PART III: EQUIPMENT AND ENTRY.
Chapter 11. Ropes, Webbing, Harnesses, and Hardware.
Chapter 12. Tying Knots.
Chapter 13. Rigging and Using Basic Systems for Confined Space Operations.
Chapter 14. Making Entry Safely.
PART IV: RESCUE.
Chapter 15. Overview of Confined Space Rescue.
Chapter 16. Rescue Team Organization and Management.
Chapter 17. Rigging and Using Rescue Systems.
Chapter 18. Packaging and transferring Patients for Confined Space Rescue.
Appendix I: Permit-Required Confined Space Decision Flowchart.
Appendix II: Examples of Permit-Reqired Confined Space Programs.
Appendix III: Rescue Team or Rescue Service Evaluation Criteria.
References.
Index.
"…recommended for environmental health and safety officers and other personnel…a valuable addition to a corporate or personal library…" (
E-STREAMS
, September 2007)
"I thoroughly enjoyed reviewing this book and the accompanying CD. I strongly recommend it to anyone involved in confined space entry at the operational or training level." (Journal of Hazardous Materials, September 1, 2006)