Confronting Equality: Gender, Knowledge and Global Change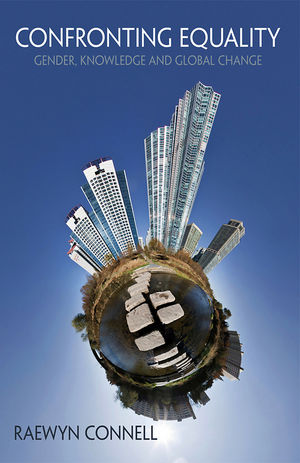 Confronting Equality: Gender, Knowledge and Global Change
ISBN: 978-0-745-65351-8
Oct 2011, Polity
200 pages
Description
What does social equality mean now, in a world of markets, global power and new forms of knowledge? In this new book, Raewyn Connell combines vivid research with theoretical insight and radical politics to address this question. The focus moves across gender equality struggles, family change, class and education, intellectual workers, and the global dimension of social science, to contemporary theorists of knowledge and global power, and the political dilemmas of today's left. Written with clarity and passion, this book proposes a bold agenda for social science, and shows it in action.

Raewyn Connell is known internationally for her powerfully argued and field-defining books Masculinities, Gender and Power, Making the Difference, and Southern Theory. This new volume gathers together a broad spectrum of her recent work which distinctively combines close-focus field research and large-scale theory, and brings this to bear on those questions of social justice and struggles for change that have long been at the heart of her writing, and will have wide-ranging implications for the social sciences and social activism in the twenty-first century.



Visit www.raewynconnell.net
Introduction page 1
1 Change among the Gatekeepers: Men, Masculinities and Gender Equality 7
2 Steering towards Equality? How Gender Regimes Change inside the State 25
3 The Neoliberal Parent: Mothers and Fathers in Market Society 41
4 Working-Class Families and the New Secondary Education 58
5 Good Teachers on Dangerous Ground 73
6 Not the Pyramids: Intellectual Workers Today 89
7 Sociology has a World History 103
8 Paulin Hountondji's Postcolonial Sociology of Knowledge 119
9 Antonio Negri's Theory of Empire 136
10 Bread and Waratahs: A Letter to the Next Left 154
Acknowledgements 167
References 170
Index 187
"You may not agree with Connell's profound critique of neoliberalism, which according to her is responsible for the inequalities of our time, but this book will at the very least provoke you to rethink and reanalyze the current system. This volume is a valiant and much needed call for action."
The Global Journal
"This book is well worth reading by a wide range of sociologists who wish to connect up their technical work with wider currents of society and who might wish to see this approach to sociology as an explicitly justified model."
International Sociology

"Confronting Equality showcases sociology at work, making sense of complex and shifting global dynamics of class, gender, and intellectual labor. And since this is the work of Raewyn Connell, it is also social science at its best: characterized by richly theorized empirical research, and carving out a place for a radically generative and engaged world sociology."
Michael A. Messner, University of Southern California
"Confronting Equality illuminates the contemporary historical period with a blend of incisive theorizing and careful empirical work. Connell explores the shaping force of neoliberalism, the dynamics of global inequality, and processes of social change through a wide-range of topics: masculinities, struggles for gender equality, class inequality in schooling and in family life, intellectual work in the global metropole and periphery. A timely and thought-provoking book."
Barrie Thorne, University of California, Berkeley
A wide-ranging volume from one of the world's most influential and respected figures in gender studies.
Proposes a bold new agenda and manifesto for the social scientists as advocates of social justice.
Addresses topics such as gender equality struggles, class and sexuality, voices from outside the West, the role of public intellectuals and the dilemmas of today's Left.
Written with clarity, passion, and often with good humour as is typical of Connell's engaging and engaged scholarship.