Confucian Philosophy: Innovations and Transformations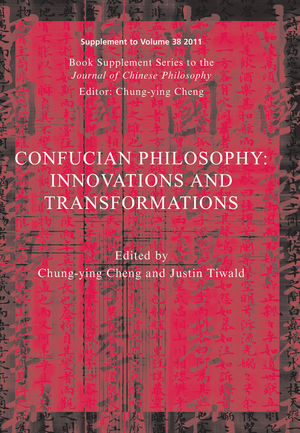 Confucian Philosophy: Innovations and Transformations
ISBN: 978-1-118-36433-8
Apr 2012, Wiley-Blackwell
250 pages
Description
In Chinese tradition Confucianism has been always both
a philosophy of moral self-cultivation for the human individual and an
ideological guide for political institutional policy and governmental action.
After the May 4th Movement of 1919 (WusiYundong ),
Confucianism lost much of its moral appeal and political authority and entered a
kind of limbo, bearing blame for the backwardness and weakening of China.  Now that China has asserted its political rights among world nations, it seems natural to ask whether Confucianism as a
philosophy has a modern or even postmodern role to play for building modern China and for enlightening the world. This question is even more meaningful in light of the fact that there is a genuine need felt in China
for a return to its Confucian heritage and vision for purposes of sustaining societal harmonization and reconstructing
cultural identity in the modern world.
Chung-Ying Cheng, Preface: New Confucianism as Philosophy of Humanity and Governance

Justin Tiwald, Introduction: A Confucian Philosophical Agenda

Chung-ying Cheng, A Transformative Conception of Confucian Ethics: The Yijing, Utility, and Rights

Justin Tiwald, Dai Zhen's Defense of Self-Interest

Chenyang Li, Xunzi on the Origin of Goodness: A New Interpretation

Shirley Chan, Tian (Heaven) in the Guodian Texts (Part I): Natural Order and Moral Norms

Daniel A. Bell and Thaddeus Metz, Confucianism and Ubuntu: Reflections on a Dialogue Between Chinese and African Traditions

Shun Kwong-Loi, Wang Yang-Ming on Self-Cultivation in the Daxue

Pauline C. Lee, "Spewing Jade and Spitting Pearls" Li Zhi's Ethics of Genuineness

Wing-Cheuk Chan, Mou Zongsan on Confucian and Kant's Ethics: A Critical Reflection

Anne Cheng, Virtue and Politics: Some Conceptions of Sovereignty in Ancient China 

Lauren F. Pfister, Family Ethics and New Visions of Selfhood in Post-Secular Chinese Teachings

Stephen C. Angle, A Productive Dialogue: Contemporary Moral Education and Zhu Xi's Neo-Confucian Ethics