Connected for Health: Using Electronic Health Records to Transform Care Delivery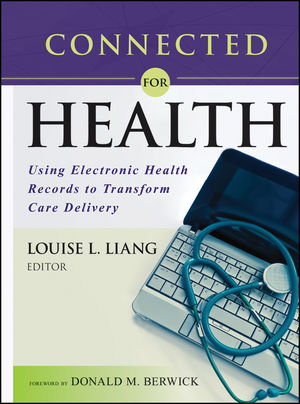 Connected for Health: Using Electronic Health Records to Transform Care Delivery
ISBN: 978-1-118-01835-4 May 2010 Pfeiffer 272 Pages
Description
Kaiser Permanente has implemented the largest nongovernmental electronic health record in the world, serving more than 8.6 million Kaiser Permanente members. Called KP HealthConnect, its impact on patient care outcomes, efficiency, safety, and patient engagement and satisfaction already is of intense interest throughout the health care industry. In this volume, Louise L. Liang, MD, who led the massive KP HealthConnect implementation, collects lessons learned from the organization's successful deployment strategy and highlights ways in which the new technological tools are changing and improving - the health care provided to patients and the operations and culture of the organization.

Advance praise for Connected for Health

""Health care transformation requires leadership and innovation. Connected for Health clearly shows there is no shortage of either at Kaiser Permanente. This is a must read for policy makers and practitioners as the lessons are of critical value if we are to achieve quality, affordable care for Americans.""
—H. Stephen Lieber, president and CEO, Healthcare Information and Management Systems Society

""Connected for Health shares what Kaiser Permanente has learned so far in tapping the vast potential of electronic health records to improve care and expand the frontiers of medical research. It is a journey that should be of great interest to policy leaders in the United States and around the world.""
—Karen Davis, president, The Commonwealth Fund

""This book is destined to become an important part of the critical dialogue on what reforming our health care system really means.""
—James J. Mongan, MD, Professor of Health Care Policy and Social Medicine, Harvard Medical School

""Connected for Health shows how KP HealthConnect is facilitating great team-based care, getting quality right every time, getting patients activated, and freeing caregivers to connect as true healers with their patients.""
—Margaret E. O'Kane, president, National Committee for Quality Assurance

""Effective implementation and use of health information technology is critical to improving the quality, safety, and affordability of health care. This book provides a great opportunity for others to learn from Kaiser Permanente's pioneering efforts.""
—Janet M. Corrigan, president and CEO, National Quality Forum
Forward (
Donald M. Berwick
).
Introduction (Louise L. Liang).
KP HealthConnect: A Primer.
SECTION I: SETTING THE COURSE.
1 Opportunity and Strategic Leadership (Louise L. Liang).
SECTION II: LAYING THE TRACKS.
2 Implementation through Collaboration (Donna Deckard and Pamela Hudson).
3 Physician Leadership and Engagement (Andrew M. Wiesenthal).
4 Nursing Leadership and Impact (Marilyn P. Chow and Valerie Fong).
Case Study: Deploying KP HealthConnect in Colorado (John H. Cochran).
SECTION III: HARVESTING VALUE.
5 Making It Matter: Value and Quality (Terhilda Garrido and Alide Chase).
6 Managing the Health of Populations (Louise L. Liang, Robert Unitan, and Jed Weissberg).
7 Redesigning Primary Care with KP HealthConnect (Ruth Brentari and Leslie Francis).
8 Making Health Personal (Kate Christensen and Anna-Lisa Silvestre).
9 Improving Patient Safety (Douglas Bonacum).
10 Supercharging Research through KP HealthConnect (Mary L. Durham).
SECTION IV: FUTURE DIRECTIONS.
11 KP HealthConnect and the Archimedes Model (David M. Eddy).
12 The Digital Transformation of Health Care (George C. Halvorson).