Connective Tissue and Its Heritable Disorders: Molecular, Genetic, and Medical Aspects, 2nd Edition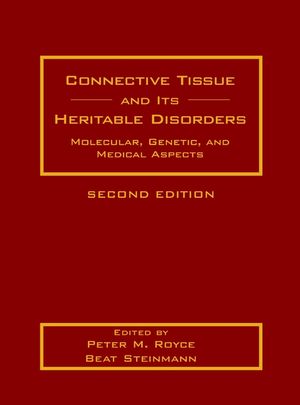 Connective Tissue and Its Heritable Disorders: Molecular, Genetic, and Medical Aspects, 2nd Edition
ISBN: 978-0-471-46117-3
Apr 2003
1201 pages
Description
The Second Edition of Connective Tissue and Its Heritable Disorders: Molecular, Genetic, and Medical Aspects is the definitive reference text in its field, with over 40% more pages on the nature, diagnosis, and treatment of disease than its predecessor.  Collecting new research on disorders detailed in the first edition as well as on those previously excluded, editors Peter Royce and Beat Steinmann provide the most up-to-date clinical and scientific information for medical specialists treating affected individuals.  Features of this revised and updated volume include detailed reviews of the clinical diagnosis, mode of inheritance, risk of recurrence, and prenatal diagnosis of each inherited connective tissue disorder; a thorough description of the morphology of connective tissues; a completely updated and revised section on the biology of the extracellular matrix; and the addition of syndromes such as craniosyntosis, and disorders of sulfate metabolism.
Preface (Peter M. Royce and Beat Steinmann).

Acknowledgments.

Preface to the First Edition (Peter M. Roye and Beat Steinmann).

Contributors.

Introduction: Research on Collagen in the Author's Labortory, 1952-1982 (Karl A. Piez).

Heritable Disorders of Connective Tissue: A Personal Account of the Origins, Evolution, Validation, and Expansion of a Concept (Victor A. McKusick).

BIOLOGY OF EXTRACELLULAR MATRIX.

Morphology and Chemical Composition of Connective Tissue.

Collagen.

Elastin and the Microfibrillar Apparatus (Joel Rosenbloom and William R. Abrams).

Glycoslated Matrix Proteins (Dick Heineg et al.).

Adhesive Glycoproteins (Klaus von der Mark and Lydia Sorokin).

Keratins (E. Birgitte Lane).

Extracellular Matrix Degradation (Gillian Murphy and John J. Reynolds).

HERITABLE DISORDERS OF CONNECTIVE TISSUE.

Osteogenesis Imperfecta (Peter H. Byers and William G. Cole).

The Ehlers-Danlos Syndrome (Beat Steinmann, et al.).

Cutis Laxa and Premature Aging Syndromes (Jeffrey M. Davidson and MariaGabriella Giro) .

Pseudoxanthoma Elasticum (Kenneth H. Neldner and Berthold Struk).

The Marfan Syndrome and Other Microfibrillar Disorders (Reed E. Pyeritz and Harry C. Dietz).

The Homocystinurias (Flemming Skovby and Jan P. Kraus).

Menkes Disease and the Occipital Horn Syndrome (Nina Horn and Zeynep Tümer).

Epidermolysis Bullosa (Leena Bruckner-Tuderman).

Prolidase Deficiency (Peter M. Royce and Beat Steinmann).

1-Antitrypsin Deficiency (Diane Wilson Cox).

Heritable Forms of Rickets and Osteomalacia (Michael P. Whyte).

Osteopetrosis (Michael P. Whyte).

Alkaptonuria (Bert N. La Du).

Fibrodysplasia Ossificans Progressiva (Frederick S. Kaplan, et al.).

Disorders of Lysosomal Enzymes.

Skeletal Dysplasias.

Disorders of Keratinization (Meral J. Arin, et al.).

Alport Syndrome (Karl Tryggvason and Paula Martin).

Miscellaneous Disorders.

Appendix I: International Nomenclature of Constitutional Disorders of Bone: Osteochondrodysplasias.

Appendix II: Extracellular Matrix Metabolites in Body Fluids (Leila Risteli and Juha Risteli).

Index.
"...an excellent book that provides an invaluable resource on connective tissue and associated disorders. It should be available to all with a scientific or medical interest in this field." (Doody?s Health)
"The second edition...has been vastly expanded...a welcome addition to the library of the medical geneticist and is essential for workers in the connective tissue field..." (The American Journal of Human Genetics, February 2003)
"...a real pleasure for anyone with an interest in the skeleton and associated tissues...outstanding book..." (New England Journal of Medicine, May 29, 2003)