Conscious Spending for Couples: Seven Skills for Financial Harmony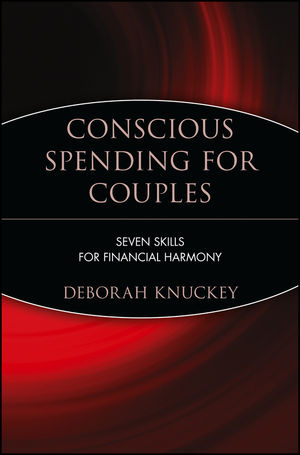 Conscious Spending for Couples: Seven Skills for Financial Harmony
ISBN: 978-0-471-26909-0
Apr 2003
320 pages
Product not available for purchase
Description
Praise for CONSCIOUS SPENDING FOR COUPLES

"Deborah Knuckey's book should be included in every couple's wedding registry. Conscious Spending for Couples will help newlyweds, couples, and families to understand what is needed to be on top of their financial game plan, and gives easy, creative, and hands-on advice on how to work as a team to achieve financial success. She does an excellent job of showing why money is such a point of contention for many couples, yet provides plenty of anecdotes and solutions to help every couple find their financial bliss."
-Don M. Blandin, President, American Savings Education Council (www.ASEC.org),
creators of the Choose to Save program (www.ChooseToSave.org)

"Deborah Knuckey's book helps couples deal with money in an emotionally intelligent way. She links critical communication skills with good money management in an inspiring, easy-to-read guide."
-John Gray, PhD
Author of Men Are from Mars, Women Are from Venus

"Conscious Spending for Couples is a must-read for couples who want to make their money work for them. This book shows readers how to use simple money management concepts to improve their financial well-being. In addition to financial advice, Conscious Spending for Couples addresses the emotional money issues that often keep couples from reaching their financial goals and enjoying their relationship."
-Kelvin Boston, host of PBS's Moneywise and author of Smart Money Moves for African Americans

"Conscious Spending for Couples is a must-read for those pondering marriage, newlyweds who've already taken the plunge, and old fogies already sitting on the porch in rocking chairs. A powerful underlying message of Deborah Knuckey's book is that respect between two people is necessary to have a functional relationship around money. She leaves no stone unturned, covering everything from why it's important for couples to stay debt-free to how NOT to argue about money."
-Juliette Fairley, author of Cash in the City: Affording Manolos, Martinis, and Manicures on a Working Girl's Salary
Introduction.

PART ONE: LOVE AND MONEY.

Chapter 1. Conscious Couples and Financial Harmony.

Chapter 2. Understanding Each Other's Point of View.

Chapter 3. Managing Your Money Styles.

Chapter 4. Creating Financial Harmony.

PART TWO: THREE RULES FOR FINANCIAL HARMONY.

Rule 1. If You Don't Got It, You Can't Spend It.

Rule 2. Follow the 80:20 Rule.

Rule 3. Even Big Kids Get to Play.

PART THREE: SEVEN SKILLS FOR FINANCIAL HARMONY.

Skill 1. Planning Together.

Skill 2. Creating a Simple Structure.

Skill 3. Getting into Good Habits.

Skill 4. Communicating Through Conflict.

Skill 5. Investing for Strong Returns.

Skill 6. Creating a Safety Net for Two.

Skill 7. Getting Help When You Need It.

PART FOUR: FOUR LIFESTYLE DECISIONS THAT MAKE OR BREAK YOUR FINANCES.

Decision 1. Where You Live.

Decision 2. What You Drive.

Decision 3. Whether You Have Children.

Decision 4. When You Retire.

Epilogue.

Bibliography.

Other Resources.

Index.
"a perfect book for newlyweds or any couple mired in debate over whether to spend or save." (Bookpage, January 2003)