Conspiracy Theories and Secret Societies For Dummies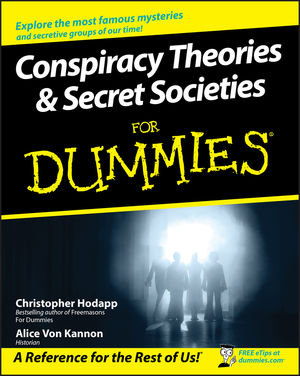 Conspiracy Theories and Secret Societies For Dummies
ISBN: 978-0-470-18408-0 March 2008 384 Pages
Description
Entering the world of conspiracy theories and secret societies is like stepping into a distant, parallel universe where the laws of physics have completely changed: black means white, up is down, and if you want to understand what's really going on, you need a good reference book. That's where
Conspiracy Theories & Secret Societies For Dummies
comes in.
Whether you're a skeptic or a true believer, this fascinating guide, packed with the latest information, walks you through some of the most infamous conspiracy theories — such as Area 51 and the assassination of JFK — and introduces you to such mysterious organizations as the Freemasons, the Ninjas, the Mafia, and Rosicrucians. This behind-the-curtain guide helps you separate fact from fiction and helps you the global impact of these mysterious events and groups on our modern world. Discover how to:
Test a conspiracy theory
Spot a sinister secret society
Assess the Internet's role in fueling conspiracy theories
Explore world domination schemes
Evaluate 9/11 conspiracy theories
Figure out who "they" are
Grasp the model on which conspiracy theories are built
Figure out whether what "everybody knows" is true
Distinguish on assassination brotherhood from another
Understand why there's no such thing as a "lone assassin"
Why do hot dogs come in packages of ten, while buns come in eight-packs? Everybody knows its a conspiracy, right? Find out in Conspiracy Theories & Secret Societies For Dummies.
Table of contents
Introduction.
Part I: Conspiracy Theories and Secret Societies: The Improbable Wedded to the Inscrutable.
Chapter 1: Everything You Know Is Wrong.
Chapter 2: Conspiracism and the Origin of Modern Conspiracy Theories.
Chapter 3: Building the Perfect Beast: Secret Societies through the Ages.
Part II: A Colossal Compilation of Conspiracy Theories.
Chapter 4: Everybody Knows About It: The World's Most Common Conspiracy Theories.
Chapter 5: JFK and Other Presidents: The Conspiracies Behind the Guns.
Chapter 6: The World Ends Monday — Racial, Religious, and Apocalyptic Conspiracies.
Chapter 7: Not of This Earth: Innocent Pawns in an Intergalactic Imbroglio.
Chapter 8: Tracking the Evolution of the 9/11 Conspiracy Theories.
Part III: Secret Societies and Societies with Secrets.
Chapter 9: The Freemasons: The World's Longest-Running Secret Society.
Chapter 10: Rosicrucians and the Evolution of Occult Secret Societies.
Chapter 11: The Illuminati: The Bavarian Boogeymen.
Chapter 12: Secret Societies of Terror and Death.
Chapter 13: Frolicsome Fraternalism and Nefarious Foes of Freedom.
Chapter 14: Thugs, Mugs, and Lugs: The Mafia and Other Underworld Societies.
Chapter 15: Banks and Super Committees: Knowing All, Owning All, Controlling All.
Part IV: The Part of Tens.
Chapter 16: Ten Conspiracy Theories That Skirt the Edge of Madness.
Chapter 17: Ten Conspiracies That Were Absolutely True.
Chapter 18: Ten Weirdest Secret Societies of All Time.
Index.