Construction Failure, 2nd Edition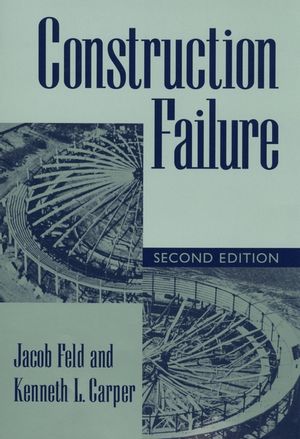 Construction Failure, 2nd Edition
ISBN: 978-0-471-57477-4
Dec 1996
528 pages
Description
First published in 1968, Jacob Feld's Construction Failure has long been considered the classic text on the subject. Retaining all of the key components of Feld's comprehensive exploration of the root causes of failure, this Second Edition addresses a multitude of important industry developments to bring this landmark work up to date for a new generation of engineers, architects, and students.

In addition to detailed coverage of current design tools, techniques, materials, and construction methods, Construction Failure, Second Edition features an entire chapter on the burgeoning area of construction litigation, including a thorough examination of alternative dispute resolution techniques. Like the original, this edition discusses technical and procedural failures of many different types of structures, but is now supplemented with new case studies to illustrate the dynamics of failure in action today.

Jacob Feld knew thirty years ago that in order to learn from our mistakes, we must first acknowledge and understand them. With this revised volume, Kenneth Carper has ensured that Feld's now-posthumous message will continue to be heard for years to come.

Jacob Feld's comprehensive work on failure analysis has now been skillfully amended to address current design and construction tools, materials, and practices. Building on the first edition's peerless examination of the causes and lessons of failure, Construction Failure, Second Edition provides you with expanded coverage of:
* Technical, procedural, structural, and nonstructural failures
* Natural hazards, earthworks, soil and foundation problems, and more
* Reinforced, precast and prestressed concrete, steel, timber, masonry, and other materials
* Responsibility and litigation concerns, dispute avoidance, and alternative dispute resolution techniques
* Construction safety issues
* Many different types of structures, including dams and bridges


Construction Failure has as much to teach us today as it did thirty years ago. This revised volume is an essential resource for design engineers, architects, construction managers, lawyers, and students in all of these fields.
Failures: Causes, Costs, and Benefits.

Natural Hazards and Unusual Loads: Effect on the Built Environment.

Earthworks, Soil, and Foundations Problems.

Dams and Bridges.

Timber Structures.

Steel Structures.

Reinforced Concrete Structures (Cast-in-Place).

Precast and Prestressed Concrete Structures.

Masonry Structures.

Nonstructural Failures.

Construction Safety and Failures during Construction.

Responsibility for Failures: Litigation and ADR Techniques.

Learning from Failures.

Index.
New forms of construction.
Coverage of the impact of escalating construction litigation.
Case studies to illustrate the principles in the previous edition.
80% new material.
Discusses the concepts behind failure analysis, and the root causes of failure.
Demonstrates how to improve practice as a result of learning from failure.