Construction Graphics: A Practical Guide to Interpreting Working Drawings, 2nd Edition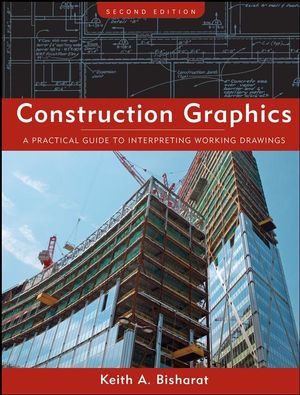 Construction Graphics: A Practical Guide to Interpreting Working Drawings, 2nd Edition
ISBN: 978-0-470-13750-5 September 2008 480 Pages
Description
A BUILDER'S GUIDE to Construction graphics
What do drawings mean to you as a builder?
When you're in the midst of a construction project, you have to be able to bridge the gap between the outcome described by the design professional in the construction drawings and the myriad materials and processes required to build the structure. With hundreds of illustrations and photographs from actual working drawings, Construction Graphics: A Practical Guide to Interpreting Working Drawings, Second Edition demonstrates what construction graphics mean to managers of the construction process and how you can make the best use of them.
From site excavation to forming, roof, and electrical systems, Construction Graphics provides up-to-date material and helpful exercises on the critical tasks involved in constructing a project from graphic depictions of it. This updated new edition gives you an overview of graphic communication, the construction business environment, the design professional's work product, and construction drawing fundamentals, and adds valuable new commentary on important topics, including:
Building Information Modeling (BIM)

Project delivery systems

Interpreting working drawings

The similarities between residential and commercial building construction drawings

Executing a site section in preparation for an earth quantity take-off

Additional commentary on welding and welding symbology
Adhering to the Construction Specifications Institute's UniFormat classification system, Construction Graphics, Second Edition will be a valuable aid to any building professional.
Preface.
Chapter 1. Construction Graphics: An Overview.
Chapter 2. The Construction Business Environment.
Chapter 3. The Design Professional's Work Product.
Chapter 4. Construction Drawings.
Chapter 5. Sketching.
Chapter 6. Site Construction.
Chapter 7. Foundation Systems.
Chapter 8. Framing Systems.
Chapter 9. Cladding, Glazing, and Exterior Doors.
Chapter 10. Roof Systems.
Chapter 11. Interior Construction.
Chapter 12. Mechanical Systems.
Chapter 13. Electrical Systems.
Chapter 14. Fabrication Drawings.
Appendix A. Estimating and the Takeoff - A Brief Overview.
Appendix B. Answers to the Exercises.
Appendix C. Residential Construction Drawings.
Appendix D. Drawing Review: A Journey through Commercial Building Construction Drawings.
Appendix E. Welding in Construction.
Appendix F. MasterFormatTM 2004 Division Numbers and Titles.
Appendix G. Executing a Site Section.
Glossary.
Selected References.
Index.