Construction Guide for Soils and Foundations, 2nd Edition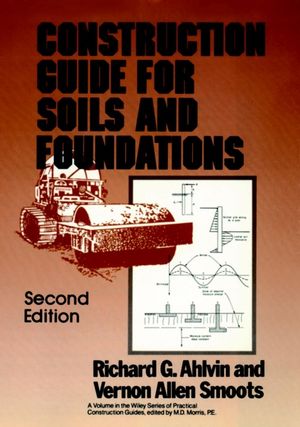 Construction Guide for Soils and Foundations, 2nd Edition
ISBN: 978-0-471-80486-4
Apr 1988
304 pages
Description
Other volumes in the Wiley Series of Practical Construction Guides, edited by M.D. Morris, P.E. Construction of and on Compacted Fills Edward J. Monahan Offers practical and useful information for all those involved in the planning, specifications, and execution of earthwork construction. Aimed at showing practitioners in this field, from the architect to the fill inspector, how to avoid costly and potentially dangerous losses due to defective earth structures or fills. Aimed specifically at the nonspecialists who are routinely involved but do not consult with geotechnical specialists. 1986 (0471-87463-9) 200 pp. Construction Dewatering A Guide to Theory and Practice J. Patrick Powers Here are practical solutions to the problems of ground water control based on an amalgam of theory and practice from the author's more than 30 years' experience working on major construction and mining projects. Among the subjects covered are geology of soils, soil characteristics, hydrology of aquifers, hydrologic analysis of dewatering systems, piezometers, pumping tests, geotechnical investigation of dewatering, pump theory, ground water chemistry, piping systems, selecting a dewatering method, sumps drains, deep well systems, well-point systems, and more. 1981 (0471-69591-2) 484 pp. Construction Glossary An Encyclopedic Reference and Manual J. Stewart Stein In this reference/manual, J. Stewart Stein, AIA, FCSI, puts his extensive first-hand experience to use to help construction industry professionals through the maze of multiple meanings, historical references, and technical jargon in the construction language. The material is formatted to follow the 16 major divisions of the Construction Specifications Institute's Master Format and the Uniform Construction index's specifications format. 1986 (0471-85736-X) 1,013 pp. Paper Construction of Drilled Pier Foundations David M, Greet and William S. Gardner ".an authoritative and useful work of reference for engineers, geologists, contractors and all those who need to improve their knowledge of the equipment and techniques for bored piling and of the specifications controlling their use." --Geotechnique Focusing on foundation types, construction methods and quality control, Construction of Drilled Pier Foundations is the first of a two-volume reference that will update and expand on the groundwork established by the 15-year-old Drilled Pier Foundations. It is comprehensive, detailed, and up-to-date, with current techniques, equipment, and practice. 1986 (0471-82881-5) 246 pp.
CONCEPTS.

Regarding Soil.

Soil Behavior.

Unusual Soils.

APPLICATIONS.

Available General Information.

Available Subsurface Information.

Subsurface Exploration.

Subsurface Sampling.

Geophysical Exploration.

Soil and Rock Characteristics.

Tests of Soil Samples.

The Soils Report.

Field Tests.

Excavations.

Shoring and Bracing.

Backfills.

Foundations.

Settlement.

Pile Foundations.

Site Grading.

Compaction of Soil.

Floor Slabs.

Landslides.

Retaining Structures.

Linings and Membranes.

Potential Damage.

Grouting and Chemical Injection.

Legal Aspects of Construction Operation.

Construction Specifications.

References.

Subject Index.