Construction Practice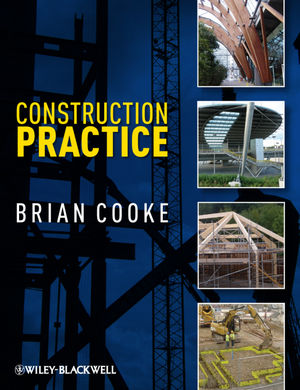 Construction Practice
ISBN: 978-1-444-33668-9
Apr 2011, Wiley-Blackwell
400 pages
Description
Construction is a highly practical subject. Students on all built environment degree programmes are expected to know and understand building technology from both a theoretical and practical standpoint. Construction site visits are a popular way for students to become acquainted with the practical aspects of construction, but these visits can only show students a small proportion of the technology of construction.

Based around a series of full colour photographic sequences, augmented by carefully chosen line illustrations and text, Construction Practice provides students with a comprehensive overview of practical construction technology. The sequences follow a logical progression through the subject and include contemporary and established practice, as well as modern methods of construction. The book also includes some examples of continental European construction methods where these differ from established UK practice.
Chapter 1 – Establishing the Site.
Chapter 2 – Materials Management.
Chapter 3 – Demolitions and Excavation.
Chapter 4 – Foundations and Piling .
Chapter 5 – Earth Support and Basements.
Chapter 6 – Handling Concrete.
Chapter 7 – Building Frames.
Chapter 8 – Steel Structures and Roofs.
Chapter 9 – Formwork in Construction.
Chapter 10 – Floor Construction.
Chapter 11 – Cladding Buildings.
Chapter 12 – Timber Framed Construction.
Chapter 13 – Domestic Housing Construction.
""This publication should prove to be a first choice for any student of construction as it offers the ideal foundation of up to date information, methods and techniques used in various construction projects today."" (Mark Wheeldon)
• Highly illustrated with many photographic sequences showing construction technology in practice
• Line diagrams and carefully chosen text complement and extend the photographic coverage
• Arranged in a rational and logical progression, following the construction sequence
• Includes contemporary and established practice, as well as modern methods of construction
• Includes some examples of continental European construction methods where these differ from established UK practice