Construction Project Management Sixth Edition Red Vector bundle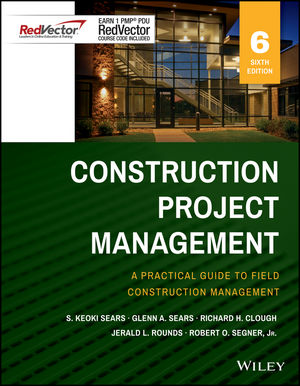 Construction Project Management Sixth Edition Red Vector bundle
ISBN: 978-1-119-10411-7
Apr 2015
352 pages
Description
Build a solid project management foundation with this classic reference and online course
The Construction Project Management Sixth Edition, Red Vector Bundle offers complete coverage of construction planning and scheduling, bundled with a dynamic online credit course from Red Vector. This book has been the construction industry's preeminent reference for over three decades, providing complete expert guidance to all aspects of construction project management, including the Critical Path Method of scheduling. This updated sixth edition features new chapter questions and a full suite of instructor's resources, new information on the Earned Value Analysis System, and introductory coverage of Building Information Modeling and Lean Construction. Follow along with two example projects—one civil, one commercial—and develop them from the ground-up as you learn how to lead a team, control risk, and manage project quality from the leading authorities in the field.
Managing a construction project means juggling multiple demands, from proposals and negotiations to scheduling, budgeting, and safety. This book shows you how to wear the manager's many hats, and keep the project running smoothly and on-target.
Learn the principles and skills of effective project management
Understand the complex planning and scheduling process
Get up to date on EVA, BIM, and Lean Construction
Apply these concepts to both civil and commercial projects
The demand for qualified construction project managers is increasing, as is the need for greater efficiency in cost and time as construction projects grow ever larger and more complex. The Construction Project Management Sixth Edition, Red Vector Bundle combines a comprehensive reference and a concise online course to give you a solid foundation in modern project management techniques.
Preface vii
1 Construction Practices 1
2 Systematic Project Management 19
3 Project Estimating 35
4 Project Planning 71
5 Project Scheduling Concepts 97
6 Production Planning 143
7 Managing Time 161
8 Resource Management 191
9 Project Scheduling Applications 213
10 Project Coordination 241
11 Project Cost System 275
12 Project Financial Management 309
Index 335