Construction Safety Management, 2nd Edition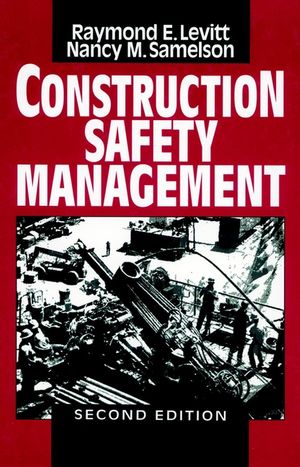 Construction Safety Management, 2nd Edition
ISBN: 978-0-471-59933-3
Oct 1993
304 pages
Description
Designing safety into every facet of your construction organization isn t just sensible, it s also profitable.... Featuring proven safety management methods gathered from fifteen years or research at Stanford University and used by the most successful construction managers in the industry, Construction Safety Management is a comprehensive blueprint for CEOs, job-site managers, foremen, safety professionals, and owners on safely managing construction work at every level and phase of a project. Incorporating these management practices and policies into a practical format of real-life case studies and summary action steps, this new updated Second Edition offers each member of the construction management team specific advice on effectively upgrading an organization s total safety performance, including:
* Building a corporate culture of zero accidents
* Planning for high project performance
* Establishing accountability for safety
* Eliminating drugs and alcohol from the job site
* Maintaining a communications safety net
* Achieving the dual goal of safety and productivity
* Maintaining effective crews
* Measuring safety performance
* Monitoring contractors for safety

This new edition also reviews key requirements of the Comprehensive Safety and Health Reform Act of 1993 and discusses the potential of emerging management techniques and computing technologies for construction safety management, including Total Quality Management, partnering, robotics, automated process control, artificial intelligence, and expert systems.

"The Second Edition is even better than the first. The information is timely but what s even more important, the techniques work!" Raymond Hays, Director Environmental Safety and Health/QA RUST Construction Services

"The detailed guidance provided throughout the book will enable all segments and levels of the construction industry to increase productivity." Jim E. Lapping Director, Safety and Health Building and Construction Trades Department AFL-CIO
Partial table of contents:

HOW SAFETY SAVES LIVES AND MONEY.

The Direct Cost Savings.

The Benefits of Safe Jobs.

THE ROLE OF THE CHIEF EXECUTIVE.

Building a Culture of Zero Accidents.

Managing Staff Support for Safety.

Summary of Action Steps for Chief Executives.

THE JOB-SITE MANAGER.

Setting Priorities on the Job.

People-Building.

Orienting New Workers.

Summary of Action Steps for Job-Site Managers.

THE FOREMAN.

Working with Crews.

Foreman Training.

THE SAFETY PROFESSIONAL.

Responsibility for Safety.

Measuring Safety Performance.

Finding the Best Fit.

BUYING SAFE CONSTRUCTION.

Selecting Safe Contractors and Subcontractors.

Managing Safety with Multiple Prime Contractors.

NEW DEVELOPMENTS IN CONSTRUCTION SAFETY MANAGEMENT.

New Ways to Work Together and the New OSHA Law.

References.

Appendices.

Index.