Construction Sealants and Adhesives, 3rd Edition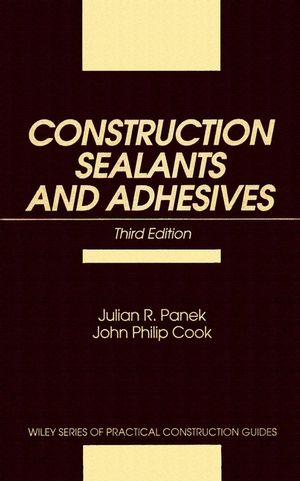 Construction Sealants and Adhesives, 3rd Edition
ISBN: 978-0-471-53474-7 January 1992 400 Pages
Description
Completely revised and expanded, the Third Edition covers the numerous improvements in sealant and adhesive technology since 1984. Features the latest advances in sealants, gaskets, tapes, waterproofing membranes and silicone structural sealant glazing. Includes new chapters on insulating glass sealants, structural silicone adhesives and membrane waterproofing. Revises and supplements existing specifications with upgraded recommendations and proposed performance requirements where standards do not exist. A guideline for architectural specifications covering sealants, fire stops, membranes and coatings is included for the first time. As always, the latest ASTM Committee sealant standards are included.
Table of contents
Sealant Classification.

Weatherproofing the Building.

Stresses and Strains in Sealants.

Properties of Sealant Materials.

Accessory Materials.

Installation of Sealants.

Polysulfide Sealants.

Silicone Sealants.

Urethane Sealants.

Insulating Glass Sealants.

Structural Silicone Glazing.

Solvent-Based Acrylic Sealants.

Latex Sealants.

Plasticized Acrylic Latex Sealants.

Butyl Sealants.

Oil- and Resin-Based Sealants.

Specialty Sealants.

Sealants in Highway Construction.

Seals for Bridge Expansion Joints.

Block Copolymer Sealants.

Membrane Waterproofing Systems.

Preformed Sealing Tapes.

Preformed Gasket Seals.

An Overview on Sealants.

Waterstops.

Adhesives.

Flooring Adhesives.

Roofing Adhesives.

Sealants as Adhesives.

Pressure-Sensitive Adhesive Tapes.

Adhesives as Binders for Composite Materials.

Adhesives for Concrete, Cement, and Plaster.

Appendices.

Bibliography.

Glossary.

Index.