Construction Technology: An Illustrated Introduction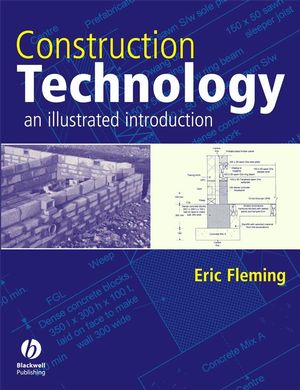 Construction Technology: An Illustrated Introduction
ISBN: 978-1-405-10210-0 March 2005 Wiley-Blackwell 400 Pages
Description
This new textbook provides a comprehensive introduction to every aspect of the technology of low-rise construction. It includes sub-structure (site work, setting out and foundations) and superstructure (flooring, roofs, finishes, fittings and fixtures). The material here covers the first year course requirement of all courses on which construction technology is taught - no matter what the ultimate qualification.
It offers tried and tested solutions to a range of construction problems and is organised following the sequence of construction. It will show what has been done in the past, demonstrating good practice - what works and what doesn't - and common faults. There are summaries of the more important BSI documents and reference to the latest building regulations.
Lengthy explanations are avoided by relying heavily on hundreds of illustrations, pairing detail drawings with clear photographs to show real life construction situations.

The supporting spreadsheet referred to in the book can be found at this link http://www.blackwellpublishing.com/pdf/fleming/Fleming_spreadsheet.xls
Cannot be combined with any other offers.
Original Price:$121.75
Purchased together:$91.31
save $30.44
Cannot be combined with any other offers.
Original Price:$155.00
Purchased together:$116.25
save $38.75
Table of contents
Bricks and Blocks; Substructures; Walls; Timber Upper Floors; Openings in Walls; Timber Roof Structures; Roof coverings; Doors; Windows; Stairs; Mutual walls; Plumbing Work; Electrical Work; Maps and Plans; Levelling; Timber; Concrete; Screeds; Shoring, Strutting and Waling; Nails, screws, bolts and proprietary fixings; Gypsum wall board; DPCs, DPMs, Ventilation of ground floor voids, Weeps; Drawing symbols and conventions; Conservation of Energy; British Standards
Features
* summarises, with diagrams and bullet point explanations all the elements of the building process
* worked building estimate examples
* comprehensive coverage - including former construction methods (essential for students on Building Surveying and Building Maintenance courses who need this when drawing up refurbishment schemes or maintenance plans)