Construction of Prestressed Concrete Structures, 2nd Edition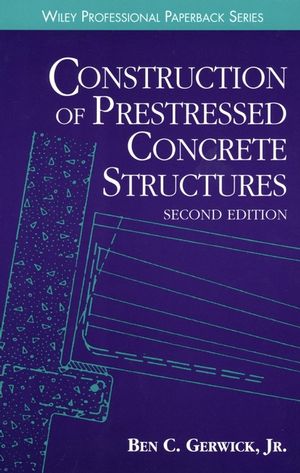 Construction of Prestressed Concrete Structures, 2nd Edition
ISBN: 978-0-471-18113-2 February 1997 616 Pages
Description
Methods and practices for constructing sophisticated prestressedconcrete structures.

Construction of Prestressed Concrete Structures, Second Edition,provides the engineer or construction contractor with a completeguide to the design and construction of modern, high-qualityconcrete structures. This highly practicable new edition of Ben C.Gerwick's classic guide is expanded and almost entirely rewrittento reflect the dramatic developments in materials and techniquesthat have occurred over the past two decades.

The first of the book's two sections deals with materials andtechniques for prestressed concrete, including the latest recipesfor high-strength and durable concrete mixes, new reinforcingmaterials and their placement patterns, modern prestressingsystems, and special techniques such as lightweight concrete andcomposite construction. The second section covers application tobuildings; bridges; pilings; and marine structures, includingoffshore platforms, floating structures, tanks, and containments.Special subjects such as cracking and corrosion, repair andstrengthening of existing structures, and construction in remoteareas are presented in the final chapters.

For engineers and construction contractors involved in any type ofprestressed concrete construction, this book enables the effectiveimplementation of advanced structural concepts and their economicaland reliable translation into practice.
Table of contents
Partial table of contents:

MATERIALS AND TECHNIQUES FOR PRESTRESSED CONCRETE.

Materials for Prestressed Concrete.

Prestressing Systems.

Special Techniques.

Durability.

Posttensioning Technology.

Architectural Prestressed Concrete.

Safety.

USE OF PRESTRESSED CONCRETE.

Prestressed Concrete Piling.

Prestressed Concrete Bridges.

Prestressed Concrete Marine Structures.

Prestressed Concrete Floating Structures.

Prestressed Concrete Tanks.

Pipes, Penstocks, and Aqueducts.

Railroad Ties (Sleepers).

Road and Airfield Pavements.

Machinery Structures.

Towers and Special Structures.

Maintenance, Repair, and Strengthening of ExistingStructures.

Prestressed Concrete--Implications and Prospects.

Appendix.

About the Author.

Index.