Consumer Behaviour, 2nd Edition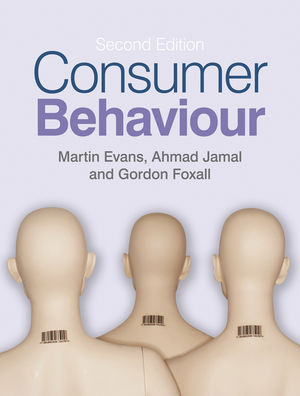 Consumer Behaviour, 2nd Edition
ISBN: 978-E-UDT-E0033-1
Jul 2011
576 pages
Description
Building on the success of the first edition , the new edition of of Consumer Behaviour has been  fully revised and updated to be even more student friendly.

Through the author teams seven decades of teaching and  researching experience they have discovered that the application of concepts via practical examples is the best delivery method for effective lerning. Consumer Behaviour is a European text that is built around how students actaully learn consumer behaviour.

Evans, Foxall and Jamal offer a mainstream consumer behaviour textbook, based on semesterised compulsory or optional modules on undergraduate and postgraduate business and marketing programmes. The student centred approach is manifested in the use of cases and exercises to be used in participative and applied ways, reflecting the clear trend towards student centred and application-based marketing courses.  
About the Authors.
Preface to the Second Edition.
Acknowledgements.
PART 1 INDIVIDUAL ASPECTS OF CONSUMER BEHAVIOUR.
CHAPTER 1 Consumer Motives and Values.
CHAPTER 2 Consumer Response to Marketing Actions: 1 Exposure, Attention, Perception.
CHAPTER 3 Consumer Response to Marketing Actions: 2 Learning and Attitudes.
CHAPTER 4 Consumer Response to Marketing Actions: 3 Action, Post-Purchase Dissonance, Consumer Involvement.
CHAPTER 5 Consumer Demographics.
CHAPTER 6 Consumer Psychographics.
ARTICLE D Smeesters and N Mandel (2006) Positive and NegativeMedia Image Effects on the Self. Journal of Consumer Research, Vol 32, pp 576–582.
PART 2 SOCIAL AND GROUP ASPECTS OF CONSUMER BEHAVIOUR.
CHAPTER 7 Social Group, Tribal and Household Buying Influences.
CHAPTER 8 Culture and Subculture.
ARTICLE S McKechnie and C Tynan (2006) Social Meanings in Christmas Consumption: An Exploratory Study of UK Celebrants' Consumption Rituals. Journal of Consumer Behaviour, Vol 5, pp 130–144.
PART 3 INTEGRATED APPROACHES TO CONSUMER BEHAVIOUR.
CHAPTER 9 New Product Buying.
CHAPTER 10 Repeat, Loyal and Relational Buying.
CHAPTER 11 Data-Based Consumer Behaviour.
CHAPTER 12 Consumer Misbehaviour.
CHAPTER 13 Organizational Buying Behaviour.
ARTICLE P A Norberg and D R Horne (2007) Privacy Attitudes and Privacy-Related Behavior. Psychology & Marketing, Vol 24(10): 829–847.
Glossary.
References.
Index.
An improved website providing test banks, suggested answers, PowerPoint Presentations and additional case studies.

The addition of new journal articles from a range of journals.
New chapter on Organizational Buying Behaviour
  Cases at the end of each chapter
The book will be more 'student centred' than the competition, manifested in the use of cases and exercises to be used in participative and applied ways, reflecting the clear trend towards student centred and application-based marketing courses
Coverage of consumer buying behaviour from a marketing, rather than a behavioural science perspective
Concise and structured towards the 15 week semester system