Consuming Television: Television and its Audiences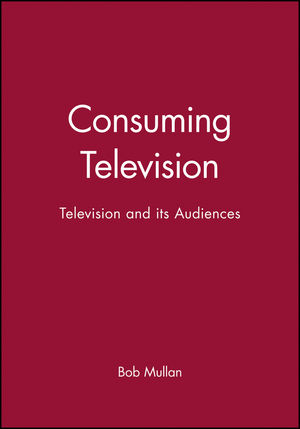 Consuming Television: Television and its Audiences
ISBN: 978-0-631-20233-2
Apr 1997, Wiley-Blackwell
256 pages
Description
Consuming Television is a textbook designed to introduce students to the role of television in contemporary society and to encourage an understanding of what contemporary audiences are all about.
Written clearly and simply, and devoid of jargon
Covers both the empirical and theoretical ground in a lively manner
Unlike most books on the television audience, this volume looks at the programmes themselves, as well as the production process (including policies which affect television production)
Introduction.
1. Audiences.
2. Technology.
3. Programmes.
4. Quality Television.
5. News.
6.Television, Politics, and Impartiality.
7. Offensive Television.
8. Children, Regulation, and the 'Effects' of Television.
9. Television's Uncertain Future.
Postscript: "Don't Ask What does People Harm. Ask what Does Them Good".
Notes.
Bibliography.
"An invaluable book; the author knows a very great deal about television in a global sense and writes with a huge amount of infectious enthusiasm." Ian Mowatt, Glasgow Caledonian University
Written clearly and simply, and devoid of jargon
Covers both the empirical and theoretical ground in a lively manner
Unlike most books on the television audience, this volume looks at the programmes themselves, as well as the production process (including policies which affect television production)