Contemplative Teaching and Learning: New Directions for Community Colleges, Number 151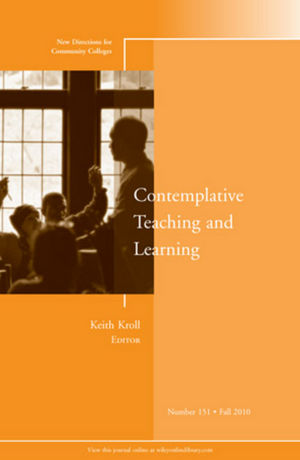 Contemplative Teaching and Learning: New Directions for Community Colleges, Number 151
ISBN: 978-0-470-93855-3
Oct 2010, Jossey-Bass
112 pages
Description
Higher education has historically done well in fostering teaching and learning with respect to critical reasoning and quantitative analysis-what might be described as higher-order thinking skills. But in our culture today, which can best be described as one of distraction, we also need an education-a kind of thinking, of being, of knowing-that fosters teaching and learning that develops methods and practice. This kind of learning teaches students to be reflective, to be mindful, and to pay attention. The contemplative theories and practices described in this volume, some of them ancient-for example, mindfulness meditation is thousands of years old-offer a new direction for community college teaching and learning.

This is the 151st volume of the Jossey-Bass higher education quarterly report series New Directions for Community Colleges. Essential to the professional libraries of presidents, vice presidents, deans, and other leaders in today's open-door institutions, New Directions for Community Colleges provides expert guidance in meeting the challenges of their distinctive and expanding educational mission.
EDITOR'S NOTES 1
Keith Kroll
1. The Case for a Contemplative Philosophy of Education 5
Rick Repetti
This chapter introduces, illustrates, and explains how contemplative practices, contemplative studies, and contemplative pedagogy differ. It reviews the research in favor of contemplative education and argues that contemplative pedagogy is engaging and transformative for both students and faculty.
2. Community College as Liminal Space 17
Maria R. Lichtmann
This chapter explores the potential of impasse—the lack of good jobs, entrance into a four-year college, vocational direction—to be a contemplative space for refl ection and transformation and the potential of the community college to turn impasse into invitation.
3. The Classroom Is a Sangha: Contemplative Education in the Community College 29
Robert Haight
This chapter proposes that a contemplative approach to education has the potential to lessen student anxiety, increase student happiness, and prepare students to build a personal foundation. Contemplative practices can be infused into any course to help increase attention, concentration, awareness, and compassion toward oneself and others.
4. Waking Up to Ourselves: The Use of Mindfulness Meditation and Emotional Intelligence in the Teaching of Communications 39
Dan Huston
Being present is necessary for communicating effectively. In this chapter, the author explains how he has been using mindfulness meditation to help students nurture this ability in his introductory communications classes, helping them develop emotional intelligence and altering neural pathways in the process.
5. Being Allowing and Yet Directive: Mindfulness Meditation in the Teaching of Developmental Reading and Writing 51
Kate Garretson
This chapter describes aspects of contemplative practice that connect it with best practices in developmental reading and writing instruction, including classroom activities that engage students with both.
6. Contemplative Practices in Human Services Education 65
Jacqueline M. Griswold
This chapter explores the correlation between stress and human services practice and discusses the ways in which contemplative practices can be incorporated as a critical component of human services education.
7. The Sound of Starting Where You Are: Contemplative Practice and Music Pedagogy 77
Matthew Ruby Shippee
This chapter provides a firsthand account of the author's seven years of teaching community college music majors contemplative practice deeply integrated with conventional music pedagogy. Along with outlining a conceptual framework, he provides specifi c teaching examples based on experience designing and teaching Creative Musicianship, a course for music majors at his college.
8. Offering Reflection to an Organization 91
Ann Faulkner, Guy Gooding
This chapter describes the experience of a multiple-campus community college district with refl ective practice as a form of professional development.
9. Vocatio: The Importance of Exploring an Ancient Concept for Community College Students 101
Clifford ""Kip"" Scott
This chapter describes the author's experience of introducing the ancient concept of vocatio (or calling) to community college students in a first-semester mandatory course, Introduction to College Studies.
10. Contemplative Practice in the Classroom 111
Keith Kroll
This chapter offers a summary of the contemplative practices discussed in the volume.
INDEX 115