Contemporary Business, 16th Edition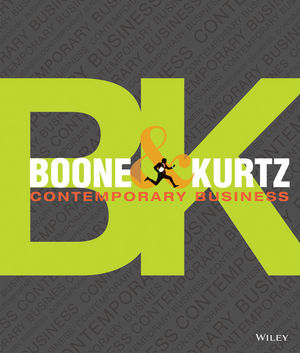 Contemporary Business, 16th Edition
ISBN: 978-1-119-02795-9
Sep 2014
672 pages
Description
This text is an unbound, three hole punched version.

Boone and Kurtz, Contemporary Business 16th Edition, delivers solutions at the speed of business to stimulate curiosity, show relevance, promote creativity and prepare students for what's ahead, in their academic and business careers. With thoroughly revised cases, fresh, current examples, and an updated video series, the 16th Edition provides insights into the many facets of business that contribute to the dynamic, ever changing world of work.
Revised and refreshed material: numerous updates have been made throughout the text, including new chapter opening vignettes, features, and cases, new web assignments, and new end-of-chapter exercises.


New Career Content: the "Career Kickstart" sections provide students with timely tips on how to succeed in the business world. Specific topics include mastering social networking using Twitter to find a job, becoming a pro at electronic business communications, and preparing for a performance review.


"Going Green" continues to highlight what contemporary companies, like eBay and Haagen-Dazs, are doing to be socially responsible and to help protect the environment.


The "Hit & Miss" segments highlight the failures, successes and journeys of companies, business leaders, and entrepreneurs like Tory Burch, the Rainbow Loom, Apple, AT&T and Chipotle.


Business statistics have been updated and cover such topics as the price of gasoline, U.S. and global GDP data, updates on populations, languages, and wealth, as well as information on the world's leading companies based on sales, market value, and profits, and the best industries for starting a new business.
Contemporary Business Weekly Updates: Wiley's Weekly Updates news site sparks classroom debate around current events that apply to your business course topics. We save you time by emailing you—every Monday—the most relevant news articles and videos tagged to the textbook and complemented by discussion questions.


Currency: Boone and Kurtz Contemporary Business 16th Edition features the most current content and relevant examples to illustrate business concepts.


Boone and Kurtz Student Case Videos: The Student Case Videos feature recent business graduates in the workplace as they share their experiences and career goals.


Boone and Kurtz Case Videos: High-definition, documentary-style video clips profile companies like Zipcar, Seventh Generation, and Comet Skateboards to reinforce key concepts, and expose students to innovative business practices.
WileyPLUS Learning Space: WileyPLUS Learning Space is an easy way for students to learn, collaborate, and grow. With WileyPLUS Learning Space, students create a personalized study plan, assess progress along the way, and make deeper connections as they interact with the course material and each other.

Through a combination of dynamic course materials and visual reports, this collaborative learning environment gives you and your students immediate insight into strengths and problem areas in order to act on what's most important.