Contemporary Clinical Psychology, 2nd Edition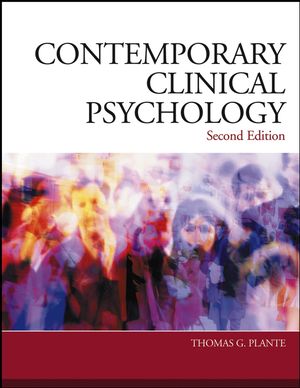 Contemporary Clinical Psychology, 2nd Edition
ISBN: 978-0-471-69230-0
Jan 2005
618 pages
Description
"This new edition provides the reader with the latest developments in clinical psychology. An excellent text for introducing and motivating students to become well-informed consumers of clinical psychology information. Every chapter provides valuable information for mental health students entering the profession."
- Gerardo D. Canul, PhD
Clinical Psychologist and Lecturer, University of California, Irvine
Visiting Faculty, Graduate School of Psychology and Education, Pepperdine University
UP-TO-DATE INFORMATION AND INSIGHT ON BECOMING A CLINICAL PSYCHOLOGIST
Contemporary Clinical Psychology, Second Edition presents a broad-spectrum overview of clinical psychology. Featuring a detailed review of the history, scientific foundations, and theoretical orientation of the field as it highlights the activities, roles, and responsibilities of today's clinical psychologist, this realistic and practical "view from the inside" provides:
* Insights into prevention, ethics, evidence-based treatments, confidentiality laws and regulations including HIPAA, and countless other current issues
* Case studies detailing the theoretical conceptualization, assessment, and treatment of clients, along with discussions of testing, therapy, consultation, and ethics
* Chapter-ending "Big Picture" synopses and lists of key points and terms to ensure understanding of the material covered, as well as a unique "Real Students, Real Questions" section, featuring actual questions asked by clinical psychology students
* Firsthand input from a diverse cross section of professionals about embarking on a career in clinical psychology
* Current and future trends, plus a step-by-step "road map" that covers all aspects of becoming a clinical psychologist
Utilizing an integrative biopsychosocial approach throughout, this thoroughly revised text reflects a contemporary perspective of clinical psychology. Author Thomas Plante, a practicing clinician as well as college professor, draws on his own experience working with clients as well as his work as a mental health director and consultant to illustrate the real world of clinical psychology and provide an accurate picture of how science and practice function together in the day-to-day practice of psychology.
From general knowledge and information to specific topics, including modes of research and areas of specialization, Contemporary Clinical Psychology, Second Edition presents a comprehensive and engaging view of the art and science of clinical psychology. Designed for upper-level undergraduates and first-year graduate students,yet invaluable for virtually anyone pursuing a career in psychology or related fields, it provides a frank and contemporary portrayal of the dynamic field of clinical psychology from many different perspectives and in many different settings.
About the Author.
PART ONE: Foundations and Fundamentals.
Chapter 1: What Is Contemporary Clinical Psychology?
Chapter 2: Foundations and Early History of Clinical Psychology.
Chapter 3: Recent History of Clinical Psychology.
Chapter 4: Research: Design and Outcome.
Chapter 5: The Major Theoretical Models: Paving the Way toward Integration.
Chapter 6: Integrative and Biopsychosocial Approaches in Contemporary Clinical Psychology.
PART TWO: Roles and Responsibilities.
Chapter 7: Contemporary Psychological Assessment I: Interviewing and Observing Behavior.
Chapter 8: Contemporary Psychological Assessment II: Cognitive and Personality Assessment.
Chapter 9: Psychotherapeutic Interventions.
Chapter 10: Ten Essential Questions about Psychotherapy.
Chapter 11: Areas of Specialization.
Chapter 12: Consultative, Teaching, and Administrative Roles.
Chapter 13: Ethical Standards.
PART THREE: Where Is Clinical Psychology Going and Should I Go with It?
Chapter 14: Current and Future Trends and Challenges.
Chapter 15: Becoming a Clinical Psychologist: A Road Map.
Glossary.
Appendix: Ethical Principles of Psychologists and Code of Conduct 2002.
References.
Photo Credits.
Author Index.
Subject Index.
The Second Edition of Contemporary Clinical Psychology has been completely updated and revised to reflect the latest research, practice findings, and trends in the field. Specifically, information on issues of diversity, evidence-based treatment, ethics (including the new APA Principles of Ethics and Codes of Conduct), prescription privileges, violence prevention and prevention programs in general, and geropsychology has been expanded and emphasized in the current edition. Importantly chapter objectives have been added to the 2E, case studies have been expanded to include more relevant clinical information, more psychologist highlights have been added, and a section on student questions has been added. Finally, the Instructor's Manual and Test Bank have been expanded and revised to incorporate changes in content from the 1E.
1. Most up-to-date coverage on current issues such as prevention, ethics, empirically supported treatments, and practice regulations (HIPAA)
  2. Didactic approach features numerous case examples, summaries of key points and terms, and "highlights" in each chapter that feature psychologists talking about specific topics and their careers.
  3. An integrative, biopsychosocial perspective is emphasized throughout the text, reflecting the trend towards eclecticism by most practicing clinicians. 
  4. Unlike most authors, Thomas Plante is firmly rooted in both academia and practice, teaching at Stanford and Santa Clara U., and seeing clients in his Menlo park practice.