Contemporary Curriculum: In Thought and Action, 8th Edition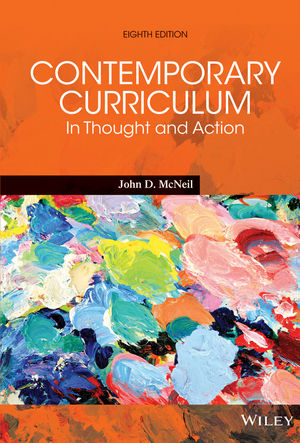 Contemporary Curriculum: In Thought and Action, 8th Edition
ISBN: 978-1-118-91651-3 November 2014 336 Pages
Description
The Eighth Edition of Contemporary Curriculum: In Thought and Action prepares readers to participate in the discussion of curriculum control and other matters important to K-12 and university educators. The text highlights major philosophies and principles, examines conflicting conceptions of curriculum, and provides the intellectual and technical tools educators and administrators need for constructing and implementing curriculum.
Table of contents
PREFACE VII
ACKNOWLEDGMENTS X
PART I CONCEPTIONS OF CURRICULUM
CHAPTER 1 HUMANISTIC CURRICULUM 1
Characteristics of the Humanistic Curriculum 3
Purpose 3
Role of the Teacher 3
Forms of Humanistic Curriculum 4
A Confluent Curriculum 4
Consciousness and Transcendency 5
Responses to Depersonalization 7
Psychological Foundations of the Humanistic Curriculum 11
Third-Force Psychology 11
Historical Antecedents to the Humanistic Curriculum 15
Ancient Greeks and Romans 15
Traditional Humanities 15
Progressive Education 16
Spiritual Images 16
Criticisms of the Humanistic Curriculum 17
Concluding Comments 18
Questions 19
Suggested Strategic Research 19
CHAPTER 2 THE SOCIAL RECONSTRUCTIONIST CURRICULUM 21
Characteristics of the Social Reconstructionist Curriculum 21
Purpose 21
Role of the Teacher 22
Social Reconstruction in Practice 23
Changing the Community 23
Freire's Social Reconstructionism 24
Eradicating Illiteracy 24
Neo-Marxists 26
Neo-Marxist Manifesto 26
Critical Theory against Reproductive Knowledge 27
Environmental Reconstruction 28
Futurologists 29
The Use of Future Planning 29
Typical Futurists' Recommendations 30
Critical Pedagogy 30
Social Adaptation versus Social Reconstruction 31
Psychological Foundations of Social Reconstruction 32
Cultural Psychology as a Source 32
Psychoanalytical Psychology and Social Reconstruction 34
Historical Antecedents to Social Reconstruction 35
Criticisms of Social Reconstructionism 37
Concluding Comments 38
Questions 39
Suggested Strategic Research 39
CHAPTER 3 THE SYSTEMIC CURRICULUM 41
Alignment 42
Accountability 43
Standards-Based Curriculum 43
Policies for Standards-Based Curriculum 43
Common Core State Standards 46
Standards-Based Curriculum in the Classroom 47
Psychological Foundations of the Systemic Curriculum 50
Historical Antecedents to the Systemic Curriculum 51
Consequences of Systemic Curriculum 53
Concluding Comments 56
Questions 57
Suggested Strategic Research 57
CHAPTER 4 THE ACADEMIC CURRICULUM 59
Approaches to the Academic Curriculum 62
The Forms of Knowledge Approach 63
Structure in the Disciplines Approach 64
Reaction Against a Structure of Knowledge 67
Revival of the Disciplines Approach 68
Liberal Arts and the Academic Core 70
Liberal Arts in Higher Education 70
Academic Programs in the Elementary and Secondary Curriculum 72
Cultural Literacy 73
Making Subject Matter More Appealing to Growing Minds 74
Psychological Foundations of the Academic Curriculum 76
Historical Antecedents of the Academic Curriculum 78
Concluding Comments 81
Questions 82
Suggested Strategic Research 82
PART II CURRICULUM DEVELOPMENT
CHAPTER 5 DECIDING WHAT SHOULD BE TAUGHT 84
Arenas for Deciding What to Teach 85
Levels of Decision Making 85
Curriculum at Different Levels 86
Contexts for Development of Curriculum 87
Range of Activity 87
Development of Materials 88
State, Regional, and Local Curriculum Planning 88
Institutional Curriculum Planning 88
Functions of the Curriculum 89
Determining What to Teach 90
Rational and Technical Models in Curriculum Decision Making 91
Needs Assessment Model 91
Steps in Needs Assessment 92
The Futuristic Model 94
The Rational Model 95
The Vocational-Training Model 98
Alternative Approaches to Determining Curriculum Purposes 100
Disjointed Incrementalism 100
Problems with Disjointed Incrementalism in Curriculum Making 101
Emergent Approaches in Curriculum Decision Making 101
A Comment on Models and Approaches for Curriculum Building 103
Concluding Comments 104
Questions 105
Suggested Strategic Research 106
CHAPTER 6 DEVELOPING AND SELECTING LEARNING OPPORTUNITIES 107
Standards for Teaching Impact Classroom Curriculum Development 108
Learning Opportunities for Higher Order Thinking 112
Transfer and Problem Solving 112
Creativity 114
Creating New Knowledge 115
Procedures for Developing Learning Activities 116
Current Orientations in Developing Learning Activities 117
Criteria for Selecting Learning Activities 120
Philosophical Criteria 121
Psychological Criteria 121
Political Criteria 123
Practicality as a Criterion 124
Research-Based Criteria 124
Criticisms of Textbooks and Learning Opportunities 125
Criticisms of Criteria for Selecting Learning Opportunities 126
Concluding Comments 126
Questions 127
Suggested Strategic Research 127
APERTURE CHAPTER 6 HOW TECHNOLOGY IS USED WITH CURRICULUM ORIENTATIONS 129
Technology in Humanistic Classrooms 129
Social Reconstruction and Technology 130
Technology in a Systemic Curriculum 131
Technology in the Academic Curriculum 133
Building Web Sites 135
New Developments in Learning Opportunities 135
CHAPTER 7 ORGANIZING LEARNING OPPORTUNITIES 137
Key Concepts in Curriculum Organization 137
Organizing Centers or Foci 138
Organizing Elements 138
Principles for Sequencing Centers and Activities Related to Elements 140
Organizing Structures 141
Structure at the Institutional Level 141
Structure at the Classroom Level 142
Organizational Patterns and Conceptions of the Curriculum 146
Unified Disciplines: The New Academic Pattern 148
Empirical Studies of the Effects of Patterns 152
Issues in Curriculum Organization 154
Concluding Comments 157
Questions 157
Suggested Strategic Research 157
PART III CURRICULUM MANAGEMENT
CHAPTER 8 MANAGING CURRICULUM 159
Schools and the Institutionalized Curriculum 159
Curriculum Change in the Context of Restructuring 161
Roles in Restructuring Curriculum 164
The Principal as Director of Learning 164
The Principal in Shared Leadership 165
Department Heads in Curriculum Management 166
Administrative Arrangements 166
Stratifying Students 168
Staffing Patterns and Scheduling 169
Supplementary Personnel 170
Nongrading 170
Facilities 170
The Middle School 171
Alternative, Magnet, Charter, and Specialist Schools 172
Trends in Reforming School Organization 174
Options in the Schools 174
Administration for Instructional Effectiveness 175
Coordinating the Curriculum 175
Effective Research and Curriculum Policy 177
Concluding Comments 179
Questions 179
Suggested Strategic Research 180
CHAPTER 9 EVALUATING THE CURRICULUM 181
Models for Evaluation 183
Consensus Models (Traditional and Technical Evaluation) 183
Pluralistic Models (Humanistic and Social Reconstructionist Evaluation) 186
Controversial Technical Issues in Curriculum Evaluation 187
The Form of Objectives (Goals, Standards, Benchmarks, and Indicators) 188
Measurement of Intended Outcomes Versus Goal-Free Evaluation 189
Norm- and Criterion-Referenced Tests 190
Tests and Invasion of Privacy 191
Authentic Assessment of Student Performance 191
Assessment as Learning 192
Techniques for Collecting Data 193
Measuring Affect 194
Sampling 195
Hazards in Conducting Traditional Evaluation 195
Value-Added Assessment 196
Concluding Comments 197
Questions 198
Suggested Strategic Research 199
CHAPTER 10 THE POLITICS OF CURRICULUM MAKING 200
Curriculum Policy 202
The Politics Involved 203
Political Decisions About What Will Be Taught 203
Concepts for Interpreting the Process of Political Decision Making 204
The Professionalization of Reform 204
Forces of Stability 204
Constraints on Policy 205
Participants in Determining Curriculum Policy 206
School-Based Political Participants 206
Community Participants 209
State Agencies 211
Testing Agencies 212
Publishers 212
The Courts 213
The Federal Government 214
Foundations 214
Special Interests 215
Conflicts in Curriculum Control 216
Concluding Comments 217
Questions 217
Suggested Strategic Research 218
PART IV ISSUES AND TRENDS
CHAPTER 11 CURRENT ISSUES DEMANDING RESPONSES 219
Curriculum for Thinking 219
The Focus of a Thinking Curriculum 221
Curriculum Competition: An International Comparison 223
Invidious Comparisons 224
Vocational Education 229
Contrasting Purposes for Vocational Education 230
Access to Vocational Education 231
Content of Vocational Education 233
Reorganizing Vocational Education 234
Trends in Vocational Education 234
Moral Education 235
Phenix's Basic Questions in Moral Education 235
Kohlberg's Theory of Moral Development 236
Character Education 237
School Safety 238
Concluding Comments 240
Questions 240
Suggested Strategic Research 240
CHAPTER 12 TRENDS IN THE SUBJECT FIELDS 242
Mathematics 243
Mathematics in Our Schools 243
Trends in Mathematics 243
Science 246
Evolution of Science Teaching 246
New Approaches in Science Education 247
Recommendations for the Future Science Curriculum 249
Physical and Health Education 251
Its Place in the Curriculum 251
Guidelines for Future Physical Education Programs 252
English 253
English as a Subject 253
Current Trends in the Teaching of English 255
Reading 256
The Curriculum of Reading 256
Contested Trends in Reading 257
History and Social Studies 259
History as a Subject 259
An Evaluation of History Curriculum 259
History and Geography in the 1990s 260
History and the Social Studies in the Standards Movement 261
Social Studies 261
The Future of Social Studies 263
Foreign Language 264
The Rise and Fall of Foreign Language 264
Efforts to Revive Language Instruction 264
The Arts 267
Concluding Comments 268
Questions 269
Suggested Strategic Research 270
PART V CURRICULUM INQUIRY: RETROSPECT AND PROSPECT
CHAPTER 13 A HISTORICAL PERSPECTIVE OF CURRICULUM MAKING 271
Curriculum Historians 272
Context for Formulation of the Curriculum Field 273
Founders of the Field of Curriculum 274
Herbartism and the McMurrys 275
Basic Tenets of Herbartism 275
The McMurrys' Thinking 276
Dewey's Opposition to Herbartism 278
Dewey's School 278
Dewey's Curriculum 278
Scientific Curriculum Making: Franklin Bobbitt and Werrett W. Charters 279
Societal Influences on the Scientific Movement 279
Key Ideas of Scientific Curriculum Making 280
Bobbitt's Contribution to Curriculum Making 280
Charters's Contribution to the Curriculum Field 282
Improvement of Instruction 283
Local Development of Curriculum 283
The Course of Study Movement 283
Caswell's Influence on the Curriculum Field 284
Rational Curriculum Making 285
Tyler's Curriculum Inquiry 285
Feminine Enactment of Curriculum 286
Hilda Taba 286
Mary Sheldon Barnes 289
Lucy Maynard Salmon 289
Lucy Sprague Mitchell 290
Concluding Comments 290
Questions 291
Suggested Strategic Research 291
CHAPTER 14 THE PROMISE OF THEORY AND INQUIRY IN CURRICULUM 293
State of the Field 294
The Need for Curriculum Theory 294
The Need for Curriculum Conceptions 295
The Need for Studies of Correlation and Integration 297
The Need for Studies of Sequence 298
The Need for Analyzing Education Objectives (Progressions and Standards) 299
The Need for Process–Product Research 300
Trends in Curriculum Inquiry 301
Forms of Inquiry 302
Synoptic Activity as Curriculum Inquiry 302
Inquiry in the School and Classroom 303
Narrative 303
Qualitative Inquiry in School Settings 304
Action Research as Curriculum Inquiry 304
Concluding Comments 306
Questions 307
Suggested Strategic Research 307
NAME INDEX 309
SUBJECT INDEX 315
New To This Edition
New content addressing the Common Core State Standards.
Coverage on the departures in curriculum goals, sequence, and teaching methods in school subject matters, such as the change of literacy from traditional reading to reading of complex subject matter texts in order to learn.
With the redefinition of national, state, and local responsibility for setting curriculum standards, accountability measures, and developing curriculum, Contemporary Curriculum offers help to schools and teachers as they take initiative to carry out their new role as curriculum developers.
A new focus on technology featuring MOOCs, online course development, flipped classrooms, tablets, curriculum development and use of video games.
With the Common Core and the rise in charter schools, Contemporary Curriculum offers a new focus on the politics of curriculum making and the mounting issue—public vs. privatization of schooling in the context of diversity and equity.
Features
Provides practical tools for doing curriculum at all levels: policy, institutional, and classroom.  Contemporary Curriculum: In Thought and Action offers multiple strategies, along with explanations as to when, why, and how each tool applies in a given situation.
Fosters interactive learning and a lively classroom experience using case openers for each Part, providing perspectives from varying orientations to curriculum, suggesting research strategies, illustrating the connection between curriculum and instruction, establishing a historical, psychological and philosophical foundation, and providing flexibility in the order of topics throughout the text.