Contemporary Debates in Social Philosophy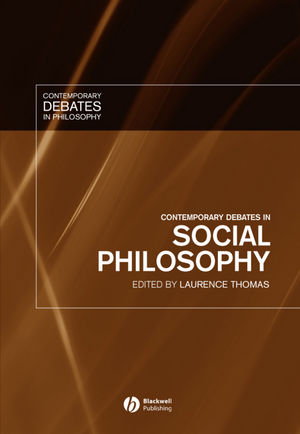 Contemporary Debates in Social Philosophy
ISBN: 978-1-405-10911-6
Aug 2007, Wiley-Blackwell
336 pages
Description
In this important and engaging volume, international scholars present opposing viewpoints to debate ten of the most important issues in contemporary social philosophy.



Provides an original analysis of some of society's most pressing issues

Written by an outstanding cast of international scholars

Issues covered include the nature of freedom, the limits of religious tolerance, affirmative action, parenting, the death penalty, privacy, violence, world hunger, social diversity, homosexuality, and abortion

Invites the reader to participate in the exchange of arguments
Acknowledgments.
Notes on Contributors.
Introduction: Virtuous Disagreements in Social Philosophy.
Part I: Equality:.
1. Freedom and Money: G. A. Cohen (University of Oxford).
2. The Meanings of Freedom: Leif Wenar (University of Sheffield).
Part II: The Family:.
3. The Good and Bad Family: Rosalind Hursthouse (University of Auckland).
4. Family Resemblances: Elizabeth F. Cohen (Syracuse University).
Part III: Sexual Rights:.
5. Homosexuality, Harm, and Moral Principles: John Corvino (Wayne State University in Detroit, Michigan).
6. Homosexual Acts, Morality, and Public Discourse: Christopher Wolfe (Marquette University).
Part IV: Abortion And The Limits Of Freedom:.
7. The Fetus in Perspective: The Moral and the Legal: Anne Fagot-Largeault (College of France).
8. Abortion and Moral Repugnancy: Laurence Thomas (Syracuse University).
Part V: Privacy:.
9. Privacy: John Deigh (University of Texas at Austin).
10. Privacy's Value: Terrance McConnell (University of North Carolina at Greensboro).
Part VI: Religious Tolerance:.
11. In Defense of Religious Toleration: Philip L. Quinn (deceased).
12. Does Religious Toleration Make Any Sense?: Thomas Christiano (University of Arizona).
Part VII: Diversity:.
13. Ethnicity, Disunity, and Equality: Lawrence Blum (University of Massachusetts, Boston).
14. Diversity Limited: David Benatar (University of Cape Town, South Africa).
Part VIII: Racial Integration:.
15. The Future of Racial Integration: Elizabeth Anderson (University of Michigan, Ann Arbor).
16. When Turnabout Is Not Fair Play: Carl Cohen (University of Michigan, Ann Arbor).
Part IX: Scarce Resources:.
17. Moral Issues in Rationing Scarce Resources: F. M. Kamm (Harvard University).
18. Locke's Defense of Preferential Treatment: Bernard R. Boxill (University of North Carolina at Chapel Hill).
Part X: Violence:.
19. Psychological Violence and Institutional Racism: The Moral Responsibility of Bystanders: Howard McGary (Rutgers University, New Brunswick).
20. McGary's Striking Claim and the Roles of Self-Deception, Acquiescence, and Complicity: B.C. Postow (University of Tennessee).
Index
"Thomas has put renowned scholars in debate with each other and the result is a collection of stimulating debates of the highest order. In these well-written and argued articles, one is treated to the best of scholarly argumentation. One may not agree with all that is said. Nevertheless, one will find that after reading this volume one will have a better understanding of the importance of what Thomas calls 'virtuous disagreement'."
Bill E. Lawson, University of Memphis<!--end-->"Volume combines practical ethics and political philosophy in a somewhat unusual way; it has quite a lot of reasonable material on race and affirmative action."
Metapsychology


Provides an original analysis of some of society's most pressing issues

Written by an outstanding cast of international scholars

Issues covered include the nature of freedom, the limits of religious tolerance, affirmative action, parenting, the death penalty, privacy, violence, world hunger, social diversity, homosexuality, and abortion

Invites the reader to participate in the exchange of arguments