Contemporary Ethics: Taking Account of Utilitarianism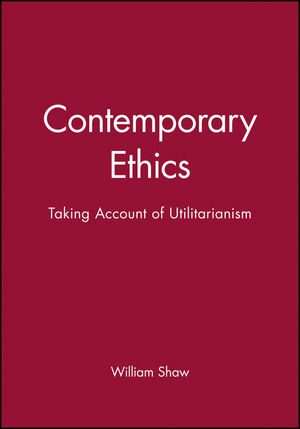 Contemporary Ethics: Taking Account of Utilitarianism
ISBN: 978-0-631-20294-3 January 1999 Wiley-Blackwell 324 Pages
Description
Aimed at undergraduates, Contemporary Ethics presupposes little or no familiarity with ethics and is written in a clear and engaging style. It provides students with a sympathetic but critical guide to utilitarianism, explaining its different forms and exploring the debates it has spawned. The book leads students through a number of current issues in contemporary ethics that are connected to controversies over and within utilitarianism. At the same time, it uses utilitarianism to introduce students to ethics as a subject. In these ways, the book is not only a guide to utilitarianism, but also an introduction to some standard problems of ethics and to several important topics in contemporary ethical theory.
Table of contents
Preface and Acknowledgments.
1. Introducing Utilitarianism.
Utilitarianism, Law and Society.
Understanding Utilitarianism.
Two Rival Nonconsequentialist Theories.
The Deathbed Promise.
Consequences, Actual and Probable.
Average versus Total Happiness.
2. Welfare, Happiness, and the Good. .
Bentham's Hedonism.
Mill's View of Pleasure and Happiness.
A Problem for Mental-State Accounts of Well-Being.
Well-Being as the Satisfaction of Desire.
Objective Theories of WellBeing.
Where This Lack of Consensus Leaves Utilitarianism.
3. Arguing for Utilitarianism.
Bentham and the Principle of Utility.
Mill: Proof and Sentiment.
Self-Evidence and the Language of Morality.
Utilitarianism and Commonsense Morality.
The Case against Deontology.
The Appeal of Utilitarianism.
4. Objections to Utilitarianism.
Utilitarianism Condones Immoral Conduct.
Promises and Particularity of Obligation.
The Distribution of Welfare.
Is Utilitarianism Too Demanding?.
5. Refining Utilitarianism. .
Second-Order Moral Judgements.
Moives, Dispositions, and Traits of Character.
The Importance of Secondary Rule.
The Rules of the Ordinary Morality.
Two Levels of Moral Thinking.
Rule Utilitarianism.
6. Rights, Liberty, and Punishment.
The Criminal Justice System.
The Nature and Function of Rights.
The Nature and Function of Rights.
Personal Liberty.
7. Justice, Welfare, and Economic Distribution. .
Some facts about Poverty and Inequality.
Thinking about Justice.
Nozick's Libertarianism.
Rawl's Theory of Justice.
Utilitarianism and Distributive Equality.
8. Virtue, Personal Life, and the Demands of Morality. .
Good-Bye to Normative Theory?.
Utilitarianism and the Virtues.
Moral Fanacticism and the things we value.
Those Who Are Near and Dear.
The Personal Point of View.
The Needs of Strangers.
Bibliography.
Index.
Reviews
"Shaw sets out to do two things: to introduce students to moral philosophy in general, and to explore utilitarianism in all its facets. He has pulled off this dual task better than one could have imagined. All the central questions in moral philosophy are discussed, and without this ever seeming to be irrelevant to the full discussion of utilitarianism. Shaw's interweaving of the topics is simply mawsterful."
Brad Hooker, University of Reading
" Shaw's book has many strengths. Throughout, it is informed by an impressive familiarity with not only the current content but also the history of utilitarian thought; and the historical material, though ample, never compromises either the topical unity of each chapter or the logical progression of the book. Moreover, the overall organization of the book is thoughtful, with the second half of the book not only succeeding but effectively reinforcing and deepening - but without being repetitive of - the first half. As a result of this subtle construction (but also because of its thoroughness), this book is longer than...others, but Shaw's polished and unobtrusive writing style make it easy to get through. Perhaps its greatest strength, though, is its honesty and fairness: although Shaw is clearly a supporter of utilitarianism, he explains its rivals sympathetically, and he openly acknowledges those points where utilitarianism is weak. This fairness, as well as being intrinsically desirable, makes the book very safe for use in the classroom...It is easily the best of these books for most purposes generally and as an introduction to utilitarianism specifically." Ben Eggleston, Mind, Vol.109, No.436, October 2000.
What's New
* Provides students with a sympathetic but critical guide to utilitarianism in a clear and engaging style.
* Uses utiliatrianism to introduce students to ethics as a subject.
* Uses utilitarianism as an entry into a number of current debates and trends in ethics.