Contemporary Health Studies: An Introduction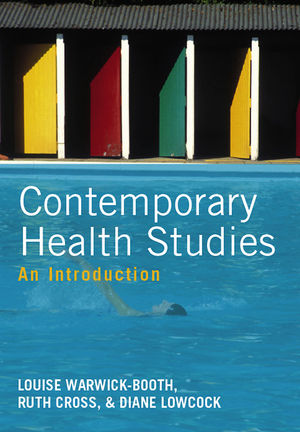 Contemporary Health Studies: An Introduction
ISBN: 978-0-745-65021-0
Jul 2012, Polity
320 pages
Description
Contemporary Health Studies: An Introduction provides a lively and accessible introduction to the current issues and key debates in this area. It contains a strong, up-to-date, global, social-scientific focus examining the human experience of health particularly emphasizing its social, political and environmental dimensions.

The book's diverse content is usefully divided into three main parts. Part one sets the scene looking closely at the definition of health studies and the debates surrounding the concept of health. Part two explores different disciplines underpinning Health Studies including chapters such as sociology, psychology, anthropology and health promotion. Part three of the book explores the determinants of health and contains chapters on individual factors influencing health, policy influences on health, public health and the global context of health. Each chapter:


Opens with a list of key learning outcomes;


Contains topical learning tasks;


Poses questions for reflection and debate;


Provides an in-depth case study to summarise the key arguments made.

Carefully chosen tables, figures and photographs bring the text to life, whilst the companion web-site offers additional learning resources for both students and lecturers alike.

Contemporary Health Studies: An Introduction is an essential guide for undergraduate health students written by three authors who have a wealth of teaching experience in this subject area. Their book will inspire readers to consider the human experience of health within contemporary global society as it is mediated by individual, societal and global contexts.
List of figures
List of tables
List of case studies
List of learning tasks
Foreword
How to get the most out of using this book
Introduction
Part 1: Understanding and promoting health
1. What is health?
2. Contemporary Threats to Health
3. Investigating health
Part 2: Disciplinary context
4. Sociology
5. Social anthropology and health
6. Health Psychology
7. Health Promotion
Part 3: Influences upon Health
8. Individual Characteristics which influence health
9. Community Characteristics and their influence upon health
11. Policy Influences upon health
12. The global context of health
13. Synthesising Perspectives: Case Studies for Action
Glossary
References
'An excellent introduction to the many facest of health studies … I recommend this book to all health professionals, students of health studies, public health and behavioural sciences.'
Nursing Times
'An accessible introduction to today's contemporary health issues.'
Nursing
Standard
, 4 star review


'An excellent text which will provide the student of health studies, public health and health promotion with fundamental knowledge and understanding of a wide range of important disciplinary and theoretical issues. The content and structure of the book and the chapters within it are highly appropriate and it will prove an invaluable key resource on a wide range of health related courses.'
Angela Scriven, Brunel University
'A key companion to understanding and debating today's contemporary health issues in both learning and practical settings. Engaging and accessible, this topical textbook is an essential buy for students and health professionals interested in health and its many dimensions.'
Nova Corcoran, University of Glamorgan
A highly accessible introduction to all aspects of current debates surrounding the social-scientific dimensions of health.
Divided into three easily navigable sections, mapping out the field, examining its disciplinary underpinnings, and then focusing on specific determinants of health.
Rich with pedagogical features, with each chapter organised around specific learning outcomes, questions and case studies.
Fully illustrated with tables, figures and photographs, plus a companion website.