Contemporary Interpersonal Theory and Research: Personality, Psychopathology, and Psychotherapy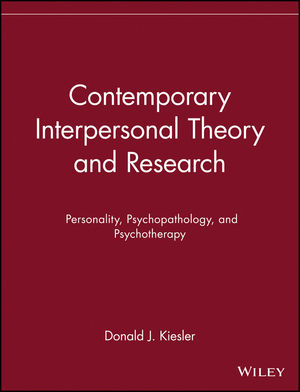 Contemporary Interpersonal Theory and Research: Personality, Psychopathology, and Psychotherapy
ISBN: 978-0-471-14847-0
May 1996
398 pages
Description
Pioneered by Harry Stack Sullivan in the 1940s, interpersonal therapy has, over the past half century, firmly established itself as one of the four main psychotherapeutic families. Now, from one of the brightest lights currently working in the field, comes the comprehensive guide to contemporary interpersonal research, theory, and practice. Providing a valuable resource for students as well as mental health professionals, Donald J. Kiesler offers both an exhaustive, up-to-the-minute survey of current methods and principles, and a systematic, empirically based approach to interpersonal psychotherapy.

In the first part of the book, the focus is on general principles of personality and maladjustment as viewed from the interpersonal perspective. Dr. Kiesler introduces the interpersonal circle—one of the central conceptual underpinnings of interpersonal theory and practice. He then explores the importance of the interpersonal circle in both research and clinical applications, including its roles in the assessment of maladaptive behavior, the conceptualization and diagnosis of DSMTM mental disorders, the analysis of the therapeutic relationship, and the shaping of subsequent interpersonal interventions. Dr. Kiesler also describes the various interpersonal cognitive components and delineates interpersonal principles of complementarity. And he provides circumplex inventories, indispensable tools of the trade used in interpersonal diagnosis, treatment and supervision planning, and evaluation processes.

Part 2 is devoted to clinical considerations. Dr. Kiesler provides practical guidelines on interpersonal assessment, diagnosis, therapy, and supervision for a wide range of DSM disorders. He highlights principles of therapeutic metacommunication and interpersonal impact disclosure as they apply to both psychotherapy and supervision. And most importantly, he develops the crucial concept of the maladaptive transaction cycle, explaining how it serves as an overarching principle in differential intervention for patients with specific DSM disorders.

Throughout the book, the author reviews the world literature concerning interpersonal theory and practice, critically appraising all important new and emerging concepts, methods, and research trends.

Timely, authoritative, and comprehensive, Contemporary Interpersonal Theory and Research is sure to have a profound impact on the fields of psychology, psychiatry, and social work for many years to come.

"This groundbreaking book, by one of the leading figures in the interpersonal tradition, will define the field and set the course for theory, research, and practice for years to come. At a time when interpersonal perspectives are becoming increasingly influential, this formidable achievement provides an essential sourcebook for theorists, researchers, and clinicians."—Jeremy Safran, PhD, The New School for Social Research

"By almost any measure, what Don Kiesler has accomplished in this work is truly extraordinary. He has taken the enormously large, diverse, and complex literature on the tradition established by Harry Stack Sullivan in psychopathology and psychotherapy, reviewed it systematically and comprehensively, and refined it into a limited set of fundamental principles. The book promises to occupy a central place in interpersonal thinking in personality and clinical psychology."—Robert C. Carson, PhD, Duke University

"...a rich and powerful description of how the therapeutic relationship itself brings about change. In a masterful tour de force, [Dr.] Kiesler brings his interactional formulations to bear on current DSM groupings, transforming these categories from mere descriptive labels into useful therapeutic tools. A much-needed book, with rewards for clinician and researcher alike."—Sheldon Cashdan, PhD, University of Massachusetts, Amherst

"Donald Kiesler has created an essential and authoritative guide to the interpersonal perspective in clinical and personality psychology — a perspective with a distinguished past and a vital present. This book is impeccable in its scholarship, integrative in its approach, encyclopedic and up-to-date in its coverage... an important work that deserves to have a broad audience." — Michael B. Gurtman, PhD, University of Wisconsin, Parkside

A volume in the Wiley Series in Clinical Psychology and Personality

W. Edward Craighead, Series Editor
Partial table of contents:

PERSONALITY AND PSYCHOPATHOLOGY.

Overt Interpersonal Behavior and the Interpersonal Circle.

Interpersonal Behavior: Moderating Factors and Other Issues.

Covert Components of Interpersonal Behavior.

Interpersonal Behavior and Our Bids for Complementarity.

Measurement of the Covert Complementary Response: The Impact Message Inventory.

Maladjusted Interpersonal Behavior: General Principles and Formulations for Specific DSM Disorders.

DIAGNOSIS, PSYCHOTHERAPY, AND SUPERVISION.

Interpersonal Assessment and Diagnosis.

The Relationship in Psychotherapy: An Interpersonal Communication Analysis.

Interpersonal Communication Interventions: Interpersonal Complementary Principles.

Conclusion.

References.

Indexes.