Contemporary Japan: History, Politics, and Social Change since the 1980s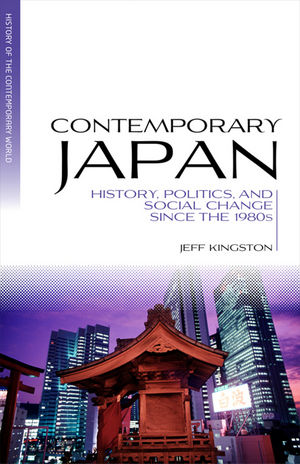 Contemporary Japan: History, Politics, and Social Change since the 1980s
ISBN: 978-1-405-19194-4 August 2010 Wiley-Blackwell 324 Pages
Description
Contemporary Japan: History, Politics and Social Change since the 1980s
presents a comprehensive examination of the causes of the Japanese economic bubble in the late 1980s and the socio-political consequences of the recent financial collapse.
Represents the only book to examine in depth the turmoil of Japan since Emperor Hirohito died in 1989, the Cold War ended, and the economy collapsed
Provides an assessment of Japan's dramatic political revolution of 2009
Analyzes how risk has increased in Japan, undermining the sense of security and causing greater disparities in society
Assesses Japan's record on the environment, the consequences of neo-liberal reforms, immigration policies, the aging society, the US alliance, the Imperial family, and the 'yakuza' criminal gangs 
Selected as a 2011 Outstanding Academic Title by CHOICE
Table of contents
Map.
Series Editor's Preface.
Acknowledgments.
Part I Introduction.
1 Transformations After World War II.
2 The Lost Decade.
Part II Risk and Consequences.
3 Defusing the Demographic Time Bomb.
4 Families at Risk.
5 Jobs at Risk.
Part III Politics and Consequences.
6 Contemporary Politics.
7 Security and the Peace Constitution.
8 Environmental Issues.
9 Immigration.
10 War Memory and Responsibility.
Part IV Institutions at Risk.
11 The Imperial Family.
12 Yakuza.
Part V Postscript.
13 Prospects.
Glossary.
Notes.
Further Reading.
Index.
Reviews
Selected as CHOICE Outstanding Academic Title for 2011 - 3.01.12
"Highly recommended. All levels/libraries." (Choice, 1 February 2011)
"In a highly dispassionate and balanced analysis of contemporary Japan, Kingston has brought out both the negative and positive sides of the nation, its economy, its society and governance. There are issues that Japan needs to squarely address. And this book points the way to it. An excellent source book on today's Japan." (Organiser, 20 March 2011)
"Kingston's discussion of the changes Japan faces in the 21st century is among the most comprehensive and accessible treatments of Japan's recent history available." (CHOICE, February 2011)
"Okinawan music rhapsodized, bloody battles retold, thrilling tales unleashed and Japan's gloom exposed - our favorite books of 2010". (The Japan Times, 29 December 2010)
"As the most current and definitive topic analysis available, this accessible and engaging study is highly recommended for both political science and Asia-focused collections". (Library Journal, 15 December 2010)
"One of the foremost foreign writers on modern Japan, Kingston provides another wide-ranging analysis of interest to all of those with a stake in the nation's future." (The Japan Times, September 2010)