Contemporary Philosophy of Religion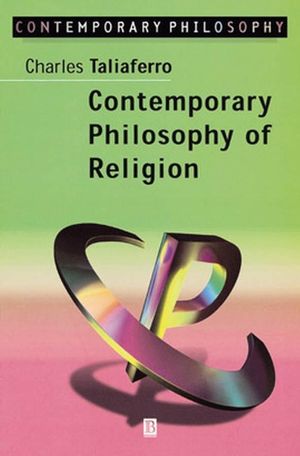 Contemporary Philosophy of Religion
ISBN: 978-1-557-86448-2 February 1998 Wiley-Blackwell 448 Pages
Description
This volume provides a vivid and engaging introduction to contemporary philosophy of religion.
Table of contents
1. Religious Beliefs.
2. Religious Practices and Pictures of Reality.
3. Divine Power.
4. Materialism, Positivism, and God.
5. Divine Intelligence and the Structure of the Cosmos.
6. The Transcendence of the Sacred.
7. God, Values, and Pluralism.
8. Evidence, Experience, and God.
9. The Problem of Evil and the Prospects of Good.
10. Theism and Naturalism.
Reviews
"Taliafero's work is a major contribution. It shows mastery of the field, the capacity to think creatively within it, and and usual ability to write clear and engaging prose. This book will quickly become an indispensable teaching tool."
Paul J. Griffiths, University of Chicago
"Taliafero's book combines a staggering breadth of research with a careful attention to organization and development the result is an extremely helpful map of the conceptual landscape in contemporary philosophy of religion." Patricia Sayre, Saint Mary's College

"Taliafero has written a lively, engaging introduction to contemporary philosophy of religion. It combines current 'front-burner' issues with a solid background of traditional themes, and incorporates welcome attention to non-Western religious traditions." William Hasker, Huntington College

"Taliafero provides and open-minded and stimulating introduction which will encourage readers to form their own views about some of the deepest issues confronting human beings." Roger Trigg, University of Warwick

"While he places at the center of the book the philosophical articulation of theism and theistic themes, author Taliafero develops these themes in conversation with four other living world religion, Judaism, Islam, Hinduism, an Buddhism, and with various atheistic or agnostic challenges to them. This is first-rate book and will be useful in the classroom." Michael Beaty, Baylor University
What's New
* Explores philosophical issues in the context of world religions.
* Highlights the ethical and social dimensions of religious beliefs.
* Provides extensive resources to enable students to enter the field.
* Many suggested topics at the end of each chapter stimulate further reflection.