Contemporary Strategic Management: An Australasian Perspective, 2nd Edition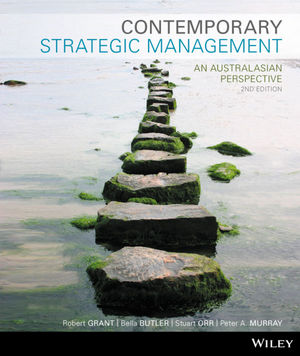 Contemporary Strategic Management: An Australasian Perspective, 2nd Edition
ISBN: 978-1-118-36255-6
Sep 2013
520 pages
Product not available for purchase
Description
Strategic management encourages us to consider all of the opportunities available to us and to be
creative in the decisions we make. Strategic management, through its broad and encompassing nature,
can be applied to improving outcomes in our daily lives, work or study and organisations of any size;
even clubs, associations and charities.

This 2nd edition of Contemporary Strategic Management: An Australasian Perspective considers strategic
management from a fundamental perspective – the philosophy that strategy can be used to increase
the success and value created by any type of human endeavour. The text takes Robert Grant's razor
sharp focus on competitive advantage and applies it in a concise, engaging and accessible format for
students in Australia, New Zealand and our neighbouring region.

The author team has refined the 2nd edition to present clear, comprehensive coverage of core topics
and concepts in business strategy. With a focus on globalisation, ethics, sustainability and the rise of
social media, the text presents real world examples and insightful grounding theory with equal aplomb.

The diversity of the new accompanying cases attests to the approach of the Australasian edition. From
the evolution of Facebook to the grounding of Qantas; the ferocity of Australian supermarket wars to
controversial Chinese bids for NBN contracts, students will relish the opportunity to analyse the full
spectrum of organisations with a view to strategically defining their own professional futures.
Preface xii
About the authors xiv
Acknowledgements xv
Part 1 Introduction 1
Chapter 1. Strategy: concepts and perspectives 3
Chapter 2. Corporate governance and sustainability 39
Part 2. The Tools of Strategy analysis 77
Chapter 3. Goals, values and performance 79
Chapter 4. Industry analysis 111
Chapter 5. Analysing resources and capabilities 153
Part 3. The analysis of competitive advantage 185
Chapter 6. The nature and sources of competitive advantage 187
Chapter 7. Business-level strategies 223
Part 4. Strategy formulation and evaluation 247
Chapter 8. Corporate-level strategy 249
Chapter 9. Networks, partnerships and alliances 291
Chapter 10. Organisational structure and strategic control 315
Chapter 11. Global strategies and the multinational corporation 355
Chapter 12. Strategy evaluation 397
Part 5. Cases in strategic management 421


Case study matrix 422
Case study 1. Facebook: the evolving strategy 423
Case study 2. The grounded kangaroo? An analysis of Qantas 427
Case study 3. Fortescue Metals Group Limited 433
Case study 4. The Australian supermarket industry 440
Case study 5. India's cup of tea 445
Case study 6. Michael Hill International: controlled expansion and sustainable growth 450
Case study 7. Not just a game 462
Case study 8. AirAsia: getting everyone to fly 470
Case study 9. The North Australian Pastoral Company: corporate strategy in a changing climate 474
Case study 10. Managing the political factor: Huawei in Australia 484
Glossary 489
Index 493
• Strategy Implementation – Implementation doesn't occur in a vacuum, so why address this critical stage in isolation? By taking a contemporary
approach, implementation is integrated in every chapter. A strategy formulated without due consideration of its implementation
is destined to be fatally flawed.
• Emerging topics – Coverage of emerging topics such as Corporate Governance and Network Strategy.
• Scene Setter – Opening vignettes in each chapter introduce a real-world example that highlights the chapter's theme.
• Strategy Capsule – Australasian examples with a global perspective help students make connections between theory with practice.
• Practising Strategic Management - Extensive end-of-chapter activities including:
»»Self-Study questions – questions for independent study with solutions via LMS
»»Discussion Questions – more thought-provoking questions for self-study
»»Exercises – critical thinking exercises appropriate for tutorial activities
»»Web Exercises – web research based exercises which are also available via the LMS
• End of Book Case Studies – Ten cases which will appeal to students and which further illustrate the strategic management process. Each
case relates to concepts from multiple chapters from the text and is followed by discussion questions. Teaching notes are available to lecturers
via the instructor resource website.
• Full colour treatment for spatial learners – Strategy diagrams are critical to students' understanding of key concepts.