Contemporary Urban Japan: A Sociology of Consumption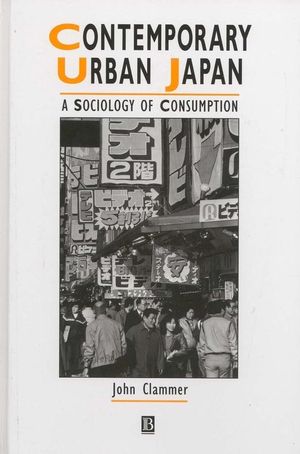 Contemporary Urban Japan: A Sociology of Consumption
ISBN: 978-1-444-39927-1 August 2011 Wiley-Blackwell 200 Pages
Description
This volume demonstrates a fresh approach to urban studies as well as a new way of looking at contemporary Japan which links economy and society in an innovative way.
Preface.
Acknowledgements.
1. Approaching Japan through the Study of Consumption.
2. Consumption and Urban Cultures in the Japanese City.
3. The Context of Desire.
4. Shopping and the Social Self.
5. Gender, Class and the Internationalization of Consumption.
6. Consuming Bodies: Media and the Construction and Representation of the Body.
7. Sites and Sights: The Consuming Eye and the Arts of the Imagination in Japanese Tourism.
8. Theorizing Consumption in Urban Japan.
References.
Index.
"
Contemporary Urban Japan
is a useful book: simultaneously a thoughtful window into a consumerist urban Japan, and an engaging challenge to conventional understandings of consumption, modernity, and social theory."
A Latham, University of Auckland
"I found the book to be creative, very current about the latest trends and extraordinarily interesting. It provides a framework for understanding the various consumer crazes that are always so apparent in Japan ... as well as a novel and fruitful approach for presenting details about the physical form, patterns of land use and daily rountines of Tokyo and cities like it. An important addition to the social science literature about contemporary Japan, as well as a contribution of interest to scholars working on the space-society nexus in contemporary urban culture in any post-modern or post-industrial society." Roman Cybriwsky, Temple University " Clammer's Sociology of Consumption opens a window on Japanese urban society that is as intriguing as it is informative. His complex analysis ranges across a vast array of topics." Michael Tansey, Service Industries Journal


The first systematic sociological study of urban Japan by a western scholar.


Breaks methodological and conceptual ground by exploring contemporary Japanese urban lifestyles through an analysis of consumption behaviour.