Content Nation: Surviving and Thriving as Social Media Changes Our Work, Our Lives, and Our Future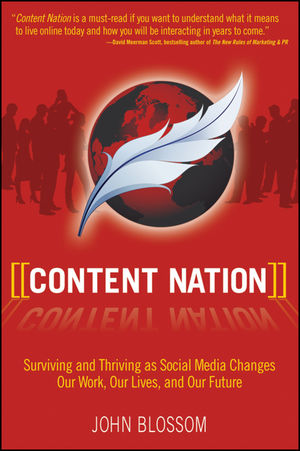 Description
Find out how social media communications is changing the content provider industry in Content Nation: Surviving and Thriving as Social Media Technology Changes Our Lives and Our Future.  Developed through a collaborative wiki, this book is a collection of information from social media experts and serves as an example of how social media impacts the way we provide and receive content.  You will learn how social media changes the way businesses market products and services, influences how people interact with the government, and dictates how we communicate with one another on a personal level.
Introduction: Chasing the Mammoth.
1. Content Nation: A World of Influential Content Providers Declares its Citizenship.
2. What Makes Social Media Tick: Seven Secrets of Social Media.
3. Social Structure in Content Nation: Changing Tribes, New Leaders.
4. The New Media: Content Nation Challenges the Fundamentals of Marketing.
5. The New Work: Content Nation Challenges the Future of Today's Enterprises.
6. The New Politics: Content Nation Redefines How Citizens Influence Governments.
7. The New Society: Content Nation Redefines How People Live Their Lives.
8. The New Survival: Content Nation Redefines the Future of Humanity.
9. The New Success: How to Survive and Thrive in Content Nation.
10. The New Epoch: Life in a Future Built on Content Nation.
11. Conclusion: The Evolving Conversation of Content Nation.
Content Nation Website
Please visit the Content Nation website at www.contentnation.com.