Contesting the Crusades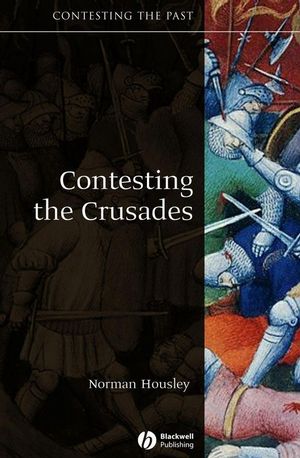 Contesting the Crusades
ISBN: 978-1-405-11189-8 February 2006 Wiley-Blackwell 216 Pages
Description
In this book Norman Housley, one of the most distinguished historians of the medieval period, provides an introduction to the complex history of crusading.
Steers readers through the key debates in this popular area of medieval history.


Draws on the author's 30 years' experience of crusading scholarship.


Issues addressed range from the definition of 'crusade', through the motivation and intentions of the crusaders, to the consequences of the crusades for European society
Cannot be combined with any other offers.
Original Price:$100.90
Purchased together:$75.68
save $25.22
Table of contents
Preface.
Abbreviations.
Acknowledgements.
Chronology.
1. Defining the Crusade.
2. The Origins and Character of the First Crusade.
3. The Development of Crusading in the Twelfth and Thirteenth Centuries.
4. The Intentions and Motivations of Crusaders.
5. Crusading Outside the Latin East in the Twelfth and Thirteenth Centuries.
6. Crusading After 1291.
7. Consequences: The Effect of the Crusades on the Development of Europe and on Relations Between Catholic Christianity and other Faiths.
Index
Reviews
"This book should be in the library of every serious student of the crusades."
Alfred J. Andrea, The University of Vermont
<!--end-->
"This is a brilliant book. It is easily the best treatment of the historiography of the crusades." Jonathan Riley-Smith, University of Cambridge

"This first instalment of Blackwell's 'Contesting the Past' series is an impressive showing. The author provides an excellent up-to-date survey of Crusade studies, and even offers suggestions for further investigation. Highly recommended." Choice

"An excellent survey of debates and historiography, concentrating on work produced within the last fifty years. Housley provides a clear guide based on an enviable command of the literature, and for this we owe him a great debt of gratitude." The International History Review

"Lively, lucid and stimulating … [A] highly readable book." English Historical Review

"Norman Housley has succeeded brilliantly in providing such a book; it is accessible, concise, and comprehensive."
Historian

"Housely's book should be at the very top of the reading list of anyone teaching the crusades." History
What's New


An authoritative introduction to the crusades.

Steers readers through the key debates in this popular area of medieval history.

Written by one of the most distinguished historians in the field.


Draws on the author's 30 years' experience of crusading scholarship.

Issues addressed range from the definition of 'crusade', through the motivation and intentions of the crusaders, to the consequences of the crusades for European society