Contexts of Ageing: Class, Cohort and Community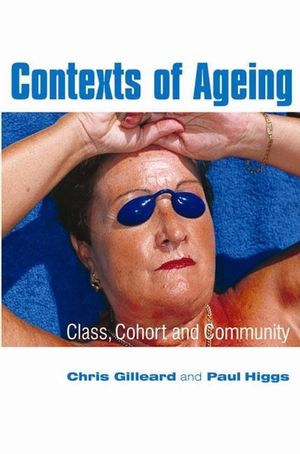 Contexts of Ageing: Class, Cohort and Community
ISBN: 978-0-745-62950-6 September 2005 Polity 224 Pages
Description
We live in ageing societies. Age preoccupies governments as much as individuals. A new affluence has spread across society and across the lifecourse. For many people looking forward to retirement, later life has changed for the better. But with this positive outcome for older people have come policy and social dilemmas for governments and individuals alike.

Drawing on a wide range of sources, this book analyses the social nature of later life in the context of the history of welfare states, the emergence of consumer society and the growth of individualism. The book argues that the third age, its origins, identity and contradictions are central to understanding the future of our society.

"Contexts of Ageing" is certain to stimulate academic debate. It is also appropriate for adoption on a range of courses. The book is written in a lively and accessible way, giving it appeal to upper-level undergraduates and postgraduates taking courses in sociology, social policy and health studies. Students and professionals working in the areas of nursing, health care and social gerontology will also find this book of interest.
Preface.
Acknowledgements.
Chapter 1. Introduction.
Chapter 2. Class, Modernity and the Lifecourse.
Chapter 3. The Nature of Class in Later Life.
Chapter 4. Cohort and Generation and the Study of Social Change.
Chapter 5. Later life and the two generational fields of modernity.
Chapter 6. Community and the nature of belonging.
Chapter 7. Community in Later Life.
Chapter 8. Fog-lamps and Leitmotifs.
Notes.
References.
Index
"An extremely valuable contribution to the sociological literature."
Kate Davidson, Sociology

"The most cogent attempt so far to force a sea-change in the way we think about old age."

Simon Biggs, Ageing and Society

"A provocative analysis which should stimulate fresh thinking and new research in the field of ageing."

Chris Phillipson, Keele University

"Contexts of Ageing is an important profound, contribution to the literature. Like a fine wine, the reader savours the careful use of language and fresh insights brought forward by Gilleard and Higgs. This book is to be read carefully, for the authors compel their readers to expand their minds and challenge conventional wisdom about the past, present, and future of the ageing society. Contexts of Ageing is a must read."

Scott A. Bass, University of Maryland, Baltimore County


Upper-level undergraduate textbook that focuses on the complexities of old age in modern society.

Draws on a wide range of sources to argue that a new affluence typifies old age, and examines the policy implications of these changes.

Controversial argument that will stimulate debate in the field, but it is presented in a way that is accessible and relevant to teaching at the upper undergraduate level.