Continental Aesthetics: Romanticism to Postmodernism: An Anthology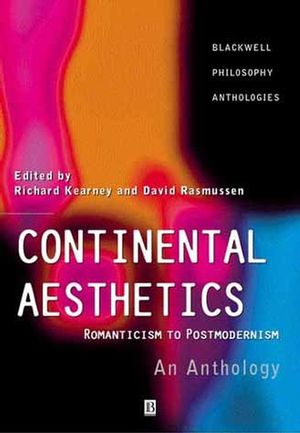 Continental Aesthetics: Romanticism to Postmodernism: An Anthology
ISBN: 978-0-631-21610-0 August 2001 Wiley-Blackwell 488 Pages
Description
This comprehensive anthology provides a collection of classic and contemporary readings in continental aesthetics. Spanning Romanticism through Modernism to Postmodernism, the volume includes landmark texts that have sparked renewed interest in aesthetics, including works by Schiller, Kant, Nietzsche, Hegel, Heidegger, Sartre, Luk?cs, Habermas, Foucault, Kristeva, and Derrida.
Preface.
Acknowledgements.
Part I: Romanticism:.
Introduction.
1. The Critique of Judgement: Immanuel Kant.
2. Letter of an Aesthetic Education of Man: Friedrich Schiller.
3. The World as Will and Representation: Arthur Schoepenhauer.
4. Lectures on Aesthetics: G. W. F. Hegel.
5. The Philosophy of Art: Friedrich Wilhelm Jospeh von Schelling.
6. Biographia Literaria: Samuel Taylor Coleridge.
7. The Birth of Tragedy: Friedrich Nietzsche.
Part II: Modernism:.
Introduction.
8. The Work of Art in the Age of Mechanical Reproduction: Walter Benjamin.
9. The Origin of the Work of Art: Martin Heidegger.
10. Lectures on Aesthetics: Ludwig Wittgenstein.
11. Leonardo da Vinci: Sigmund Freud.
12. The Ideology of Modernism: György Lukács.
13. The Aesthetic Dimension: Herbert Marcuse.
14. Aesthetic Theory: Theodor Adorno.
15. Discourse in the Novel: Mikhail Bakhtin.
16. Taste and the Reproduction of Art: Benedetto Croce.
17. What is Literature?: Jean-Paul Sartre.
18. Eye and Mind: Maurice Merleau-Ponty.
19. On Leveling the Genre Distinction between Philosophy and Literature: Jürgen Habermas.
20. Truth and Method: Hans-Georg Gadamer.
21. Metaphor and the Problem of Hermeneutics: Paul Ricoeur.
Part III: Postmodernism:.
Introduction.
22. Note on the Meaning of the Word "Post" and Answering the Question "What is Postmodernism?": Jean-François Lyotard.
23. The Death of the Author: Roland Barthes.
24. This Is Not a Pipe: Michel Foucault.
25. The Laugh of the Medusa: Hélène Cixous.
26. Travels in Hyperreality: Umberto Eco.
27. Simulations: Jean Baudrillard.
28. Economimesis: Jacques Derrida.
29. Literature One More Time: Maruice Blanchot.
30. The Malady of Grief: Duras: Julia Kristeva.
Index.
"Richard Kearney and David Rasmussen must be congratulated on their judicious selection of the main texts in continental aesthetics. Indeed, the result is so successful that the volume could as readily serve as a textbook for a course in continental philosophy as for a course in aesthetics. This volume surpasses all previous collections in the area."
Robert Bernasconi, University of Memphis
"Collecting key selections from influential texts, this Anthology displays a wide range of important European theorists, past and present, and should prove very useful for courses in aesthetics and literary theory." Richard Shusterman, Temple University, author of Pragmatist Aesthetics
Provides a collection of classic and contemporary readings.

Includes landmark texts that have sparked renewed interest in aesthetics.

Offers contextualizing introductions to each of the three sections: Romanticism, Modernism, and Post-modernism.