Continental Philosophy: An Introduction, 2nd Edition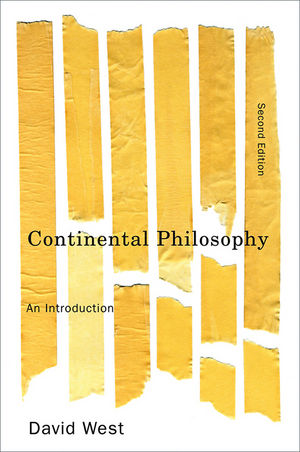 Continental Philosophy: An Introduction, 2nd Edition
ISBN: 978-0-745-64582-7 December 2010 Polity 376 Pages
Download Product Flyer
Download Product Flyer
Download Product Flyer is to download PDF in new tab. This is a dummy description. Download Product Flyer is to download PDF in new tab. This is a dummy description. Download Product Flyer is to download PDF in new tab. This is a dummy description. Download Product Flyer is to download PDF in new tab. This is a dummy description.
Description
This book is a fully updated and expanded new edition of
An Introduction to Continental Philosophy
, first published in 1996. It provides a clear, concise and readable introduction to philosophy in the continental tradition. It is a wide-ranging and reliable guide to the work of such major figures as Nietzsche, Habermas, Heidegger, Arendt, Sartre, Foucault, Derrida and Žižek. At the same time, it situates their thought within a coherent overall account of the development of continental philosophy since the Enlightenment.
Individual chapters consider the character of modernity, the Enlightenment and its continental critics; the ideas of Marxism, the Frankfurt School and Habermas; hermeneutics and phenomenology; existentialism; structuralism, post-structuralism and postmodernism. In addition to the thinkers already mentioned, there is extended discussion of the ideas of Kant, Hegel, Dilthey, Husserl, Gadamer, Kierkegaard, de Beauvoir and Lyotard. The new edition includes an additional, full-length chapter on continental philosophy in the twenty-first century focusing on Giorgio Agamben, Alain Badiou and Slavoj Žižek.
Continental Philosophy: An Introduction is an invaluable introductory text for courses on continental philosophy as well as courses in the humanities and social sciences dealing with major figures or influential approaches within that tradition.
Table of contents
Preface to the Second Edition.
Preface to the First Edition.
1 Introduction: What is Continental Philosophy?
2 Modernity, Enlightenment and their Continental Critics.
From Modernity to Enlightenment.
The Critical Philosophy of Immanuel Kant.
Continental Critics of Enlightenment.
The Hegelian Synthesis.
3 Dialectics of Emancipation: Marx, the Frankfurt School and Habermas.
Feuerbach, Marx and Marxism.
The Critical Theory of the Frankfurt School.
Habermas and the Renewal of Critical Theory.
4 Historicism, Hermeneutics and Phenomenology.
Dilthey, Philosophy of Life and Hermeneutics.
Husserl and Phenomenology.
Heidegger's Phenomenology of Being.
Gadamer and the Universality of Hermeneutics.
The Phenomenology of Political Action ÐHannah Arendt.
5 Beyond Theory: Kierkegaard, Nietzsche, Existentialism.
Søren Kierkegaard.
Friedrich Nietzsche.
Jean-Paul Sartre and French Existentialism.
6 Beyond the Subject: Structuralism and Poststructuralism.
Decentring the Subject.
The Break with Humanism.
Foucault's Genealogy of the Subject.
Derrida's Deconstruction of Western Metaphysics.
7 Postmodernism.
Varieties of Postmodernism.
Philosophical Critique of Enlightenment and Modernity Postmodernity as a Stage of Western Society.
Politics of Difference and Ethics of the Other.
8 Radical Departures.
After the End of History.
The Return of the Political - Agamben, Nancy, Lacoue-Labarthe
Slavoj Žižek - The Fractious Subject of Ideology.
In the Event of Alain Badiou.
Notes.
Bibliography.
Index.
New To This Edition
Updated throughout and includes a new chapter on contemporary continental philosophy covering the work of Agamben, Badiou, Zizek and Judith Butler.
Reviews
"West's ability as a story teller makes this a thoroughly interesting read regardless of one's degree of expertise in the subject. It is an exemplary introduction."
Sociological Review

"A real accomplishment. It is a lucid and expansive guide to a body of theoretical literature that is at times intimidating and dense."
International Philosophical Quarterly

"Thoughtful, thoroughly researched, well written, Continental Philosophy invites students and scholars to
engage in a rich and interesting tradition."
Teaching Philosophy

"This second edition does more than introduce continental philosophy; it makes it interesting and intriguing."
Philip Pettit, Princeton University
"David West's interpretations of the major figures of continental philosophy are succinct and insightful. He reads continental philosophy as a reaction to Enlightenment rationalism and as a potential foundation for emancipatory politics. This edition includes a courageous critique of several important recent figures: Agamben, ?i?ek and Badiou. West provides an illuminating and thorough introduction to the continental tradition."
William R. Schroeder, University of Illinois