Continuing Education in Colleges and Universities: Challenges and Opportunities: New Directions for Adult and Continuing Education, Number 140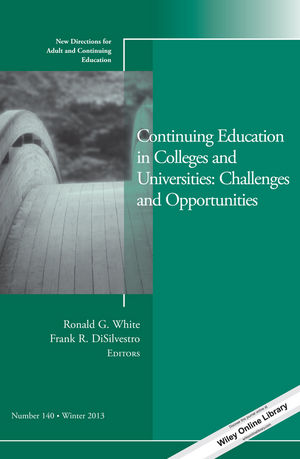 Continuing Education in Colleges and Universities: Challenges and Opportunities: New Directions for Adult and Continuing Education, Number 140
ISBN: 978-1-118-83487-9
Dec 2013, Jossey-Bass
120 pages
Description
These are times of great opportunity and challenge for continuing education (CE) programs in colleges and universities. While lifelong learning remains central to CE's mission, means of promoting and delivering adult education programs through distance and online learning are undergoing tremendous technological transformation. Within institutions, CE units are increasingly collaborating with academic departments. In addition, demographic shifts have resulted in new audiences and types of programs offered, both credit and noncredit. School are pressured to increase their participation in economic development.

All these changes carry administrative considerations. This volume suggests perspective and solutions for the challenges that must be successfully confronted by today's CE programs and the professionals who develop them.

This is the 140th volume of this Jossey-Bass series. Noted for its depth of coverage, it explores issues of common interest to instructors, administrators, counselors, and policymakers in a broad range of adult and continuing education settings, such as colleges and universities, extension programs, businesses, libraries, and museums.
EDITORS' NOTES 1
Ronald G. White, Frank R. DiSilvestro
1. The Dynamic Flux of Continuing Higher Education: 7
Redefining the New Roles, Responsibilities, and Expectations
Lisa R. Braverman
The roles and expectations for continuing education programs and professionals are undergoing a period of rapid change.
2. Current Trends in Adult Degree Programs: How Public 17
Universities Respond to the Needs of Adult Learners
Angela Gast
With pressure to increase the number of adults with degrees, universities are responding with campus-based and online programs and specialized support services.
3. Partnerships with Academic Departments 27
Anthony M. English
This chapter offers practical suggestions and examples of successful collaborations between continuing education units and academic departments.
4. From Access to Excess: Changing Roles and Relationships 39
for Distance Education, Continuing Education, and Academic Departments in American Universities
Judy Copeland Ashcroft
This chapter describes the ways that continuing education units are utilizing distance and online learning in their programs as well as new developments in the use of technology.
5. Growing Importance of Prior Learning Assessment in the 51
Degree-Completion Toolkit
Rebecca Klein-Collins, Judith B. Wertheim
Although prior learning assessment has been around for several decades, recent developments, including the push to increase the number of adults with college degrees in the United States, have resulted in new developments in assessing learning outside of the classroom.
6. Trends and Considerations Affecting Noncredit Programs 61
Nelson C. Baker
This chapter focuses on considerations affecting the development of noncredit programs in a rapidly changing higher education landscape.
7. Role of the Community College in Economic Development 69
Rebecca A. Nickoli
This chapter discusses the innovative ways that community colleges are playing an increasing role in local and regional economic development.
8. Continuing Higher Education and Older Adults: A Growing 79
Challenge and Golden Opportunity
Frank R. DiSilvestro
This chapter focuses on the rapidly aging U.S. population and its impact on the role of continuing higher education.
9. Preparing Marketing for the Future: Strategic Marketing 89
Challenges for Continuing Education
James Fong
This chapter describes how societal needs and new developments in continuing education are reshaping the role of marketing and program promotion.
10. The Road Ahead: Challenges and Opportunities 101
Ronald G. White
This chapter summarizes the major issues and developments addressed in this volume and some of the challenges continuing higher education is likely to face in the coming years.
INDEX 107