Continuing Professional Development: A Guide for Therapists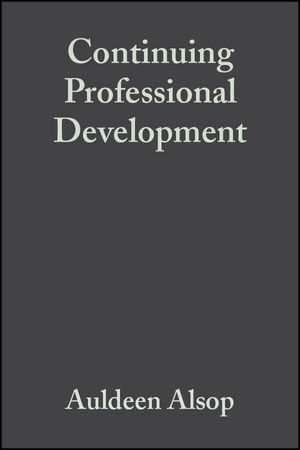 Continuing Professional Development: A Guide for Therapists
ISBN: 978-0-470-68005-6 April 2008 Wiley-Blackwell 192 Pages
Description
Therapists must increase their understanding of Continuing Professional Development (CPD) to maintain and improve competence. Every practitioner will need to take steps to maintain and demonstrate continued competence under the provisions of the new Health Act 1999.
This book considers current policy on CPD and discusses the theoretical basis for maintaining competence and for adult learning. Primarily, however, it provides practical guidance on how to develop a strategy for professional and career development, and on portfolio preparation that shows evidence of professional updating and CPD. Many examples are given of activities in the areas of clinical work, management, education and research that can be used for CPD. The development and use of learning skills such as reflection and critical evaluation is considered central to the process.
Written specifically with the therapist in mind, this book will provide invaluable practical advice to occupational therapists, physiotherapists, radiographers, speech and language therapists, and podiatrists.
Table of contents
Foreword by Dawn Foreman.
Preface.
1. Continuing Professional Development.
2. Using Portfolios for Continuing Professional Development.
3. Developing a Portfolio.
4. Building a Career.
5. Competence: maintenance and Development.
6. Equipped to learn.
7. The Adult Learner.
8. The workplace as a learning Environment.
9. Learning Opportunities and Strategies.
10. Learning Skills and their Application.
11. Gaining Qualifications.
12. Support for learning and Continuing Professional Development.
13. Activities for Continuing Professional Development.
Realising Dreams.
Index
Reviews
"The book should serve as a useful resource for physiotherapy departments, those with a particular responsibility for promoting and organising CPD, and university libraries."
"Those with more theoretical interests in the subject should find it a comprehensive survey of the dimensions of CPD for the therapy professions of today."
Physiotherapy Journal
"Auldeen Alsop's excellent book provides a timely source of reference for therapists who wish to develop their own CPD."
"This publication offers an invaluable addition to any therapy department library, and is a resource that should be sought out by individual therapists who are undertaking responsibility for their own CPD."
British Journal of Occupational Therapy
What's New
* fulfils an urgent need for information about CPD
* is specifically targeted at the Professions Allied to Medicine
* provides practical examples of activities that can serve as learning opportunities for CPD
* offers practical guidance on portfolio development
* Foreword by Dawn Foreman, Dean of the School of Health & Community Studies, University of Derby