Continuity and Change in the Social Competence of Children with Autism, Down Syndrome, and Developmental Delays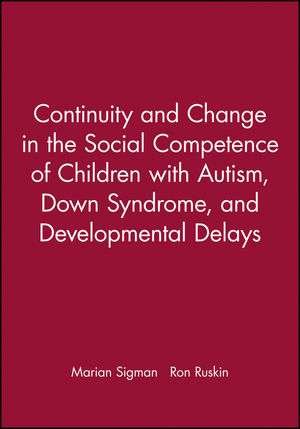 Continuity and Change in the Social Competence of Children with Autism, Down Syndrome, and Developmental Delays
ISBN: 978-0-631-21591-2 August 1999 Wiley-Blackwell 148 Pages
Description
This volume presents a longitudinal study that assesses the continuity and change to diagnosis, intelligence, and language skills in children with autism, Downs Syndrome, and other developmental delays.
Table of contents
Abstract.
Background and Goals of This Study.
Stability of Diagnosis and Intelligence.
Nonverbal Communication, Play, and Language Skills.
Social and Emotional Responsiveness.
Peer Interactions in School.
Correlates and Predictors of Peer Interactions in School.
Summary and Discussion.
References.
Acknowledgments..
Commentary.
Methodological Issues in Cross-Syndrome Comparisons: Matching Procedures, Sensitivity (SE), and Specificity (SP) (Carolyn B. Mervis and Byron F. Robinson).
Response to the Commentary by Mervis and Robinson (Marian Sigman).
Contributors.